UPDATE: Sept. 12, 2023
NEW YORK – Houston Rockets guard Kevin Porter Jr.'s girlfriend was left with a broken bone in her neck after the NBA player reportedly beat and choked her relentlessly at their New York City hotel, prosecutors said Tuesday, citing medical records.
The savage beatdown only stopped when the woman fled the room and was found bloodied and bruised by hotel employees in the hall, prosecutors said during Porter's arraignment in Manhattan Criminal Court, the New York Post reported.
Porter was subsequently released from custody on $75,000 bail and the judge issued a protective order for the victim. He is due to return to court Oct. 16.
---
Sept. 11, 2023
NEW YORK – An NBA player for the Houston Rockets was taken into custody in New York City Monday morning after he was accused of assault and strangulation of his WNBA girlfriend.
Officers with the New York Police Department responded at 6:45 a.m. to a 911 call reporting an assault at the Millennium Hotel in Times Square. Following a preliminary investigation, officers arrested 23-year-old Kevin Porter Jr. on two felony charges related to domestic violence, according to a police spokesperson, ABC News reported.
Law enforcement sources told the news outlet that Porter was taken into custody for allegedly assaulting his girlfriend, former WNBA player Kysre Gondrezick. Porter was booked at NYPD's 17th Precinct in midtown Manhattan.
According to police sources, Porter returned early Monday morning to the hotel where the couple was staying after being out all evening, reported Yahoo News.
Apparently upset due to the late hour of his return, Gondrezick locked the door, police sources said. Porter sought the assistance of hotel security and entered his room.
However, shortly after Porter gained entry into the room, he beat up the woman, sources said.
The extent of Gondrezick's injuries were not immediately known.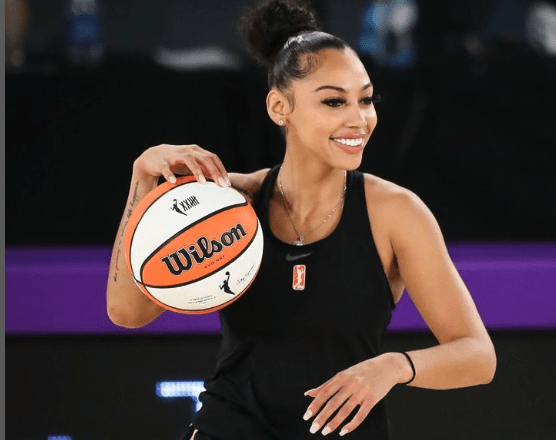 The Houston Rockets issued a statement that said, "We are in the process of gathering information surrounding the matter involving Kevin Porter Jr. We have no further comment at this time."
Porter, a point guard, signed a four-year contract extension worth as much as $82.5 million last season. However, only $15.9 million for this season is fully guaranteed, due to his history of off-court issues, ESPN reported.
Porter was selected with the 30th pick in the 2019 NBA draft after spending one season at USC, where he was suspended due to conduct issues. He played his rookie season with the Cleveland Cavaliers, but did not play for part of the following season due to personal reasons.
The "personal reasons" were apparently connected to an arrest in November 2020 in Ohio on a weapons related charge. However, a grand jury declined to indict him and he remained inactive with the Cavaliers as the legal process played out.
Following his inactivity, compounded with a shouting match with Cleveland team officials, Porter was traded to the Rockets in January 2021, according to ESPN. 
Gondrezick, 26, played basketball collegiately at Michigan and West Virginia, before being drafted No. 4 overall in the 2021 WNBA draft by Indiana. She played one season for the Fever before she was waived. She has not signed with another club since her release.
Last week, another sports star was arrested on felony charges of domestic violence as Los Angeles Dodgers pitcher Julio Urias was taken into custody as he attended a professional soccer match in California.