Early in my police work an old timer said to me, "Kid, we spend most of our time on our feet; buy the best boots you can afford." There was not much technology back then and my aching feet proved his point many times over. Since those early days, I have been searching for duty and training boots to meet the needs of everyday wear on tough surfaces and in rough weather.
What I look for:
Lightweight, our original paratroop boots were brick heavy and had no traction. They looked cool but that was it.
Soles that are rugged and are anti-slip on slippery wet and icy surfaces and shed mud and debris
Easy on and off
Water proof or water resistant
Support for the ankle to prevent foot rolling and injury
Professional look
Reasonable cost
And above all COMFORTABLE
During the Illinois Chiefs' Conference in August of this year I attended the vendor show. Chris Holm from Blauer was previewing new products and he showed me the suede model of their CLASH LT boot. "Looks like a boot, wears like a gym shoe" he said. I held the boots and was impressed by their light weight, 19 ounces each.
What really drew my attention was their BOA cable fastening system. Like ski boot bindings, there is a center knob at the top of the boot tongue that is attached to a braided steel cable system. Turn the knob to tighten, pull the knob out and it releases tension and opens the boot to take it off. This is infinitely adjustable, very strong, and the fastest in and out design I have used. The Clash LT comes in suede either black or tan color. It was summer, hot as heck and I was on the range daily for training so I asked if he could get me a pair in tan and I would put them to the test.
Results of four months of daily wear:
Comfort as the key issue, very light weight combined with excellent construction, these are truly the most comfortable boots I have worn. They broke in quickly and I ordered them true to size.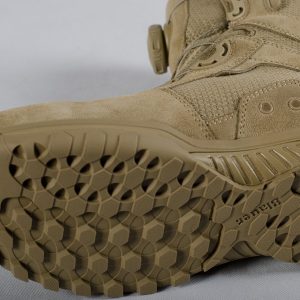 In the heat of the summer and now in the frigid Midwest winter they are neither too hot nor too cold. I have added a lightweight wool hiking sock for cold weather and the combo is good to go. It is not intended as a cold weather boot but it works for me.
The cable lacing system is very useful and held tight in all activities of range and training work.
During rain and snow I have had no water issues but it is not intended as a "waterproof" boot.
The side construction gives good support and the ankle is protected. The top of the boot is padded to prevent scraping the shin and calf.
The soles show very little wear and based on my use, look like they will stand up to tough terrain for a long time. The molded cleat design drops off mud and other crud as you walk. Unlike my other boots, I did not have to take them to the utility sink and use a screw driver to clean the soles of caked in mud and gravel.
The Clash LT has a clean look and can be had in both suede and leather in men's and women's sizes. Available also in a waterproof version.
Retail for the LT model is near $150 and sale prices now around $120.
The only downside so far is that the tops of the boots have worn and frayed from my use of ankle rigs.
I use a pistol ankle rig and on the other ankle, a tourniquet holder. After continuous wear, the holster edges have worn through the top cover material. It does not affect the usability but I hope to see Blauer add a bit thicker material in this area.
Overall, the Clash LT is the best boot I have used to date.
I just ordered another pair in black and will report further.
---
Find out more about tactical boots here.