[et_pb_section bb_built="1″][et_pb_row][et_pb_column type="4_4″][et_pb_text]
Cook County Jail officials said they plan to take action against several inmates who clapped for the man accused of shooting a police commander.
The jail released video showing about five inmates clapping as Shomari Legghette walked into his court hearing on Thursday.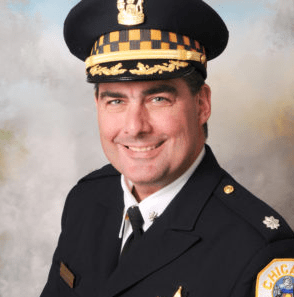 Those inmates were being held in a cell waiting to see a judge when Legghette walked by.
Legghette was charged with first-degree murder, felon in possession of a firearm and possession of narcotics in connection with the death of Chicago Commander Paul Bauer.
He appeared in bond court Thursday morning where his bond was denied.
WGNTV reports that the judge called him a "real and present" threat to the community after hearing the details of the murder and about Legghette's lengthy criminal record that includes battery, armed robbery and felony drug charges dating back 20 years.
Cara Smith, chief policy officer for Sheriff Tom Dart, called the inmates' actions "disgraceful and despicable." She said officials were working to identify the inmates who clapped, and would ask the Cook County State's Attorney's office to consider using the video against them in sentencing in their cases.
The inmates also are being transferred to other jails outside Cook County, according to Smith.
[/et_pb_text][et_pb_code _builder_version="3.0.65″]<iframe scrolling="no" frameborder="0″ allowfullscreen webkitallowfullscreen mozallowfullscreen src="http://w3.cdn.anvato.net/player/prod/v3/anvload.html?key=eyJtIjoiY2JzIiwidiI6IjM4MTE4MDQiLCJhbnZhY2siOiJhbnZhdG9fY2JzbG9jYWxfYXBwX3dlYl9wcm9kXzU0N2YzZTQ5MjQxZWYwZTVkMzBjNzliMmVmYmNhNWQ5MmM2OThmNjciLCJwbHVnaW5zIjp7ImNvbXNjb3JlIjp7ImNsaWVudElkIjoiMzAwMDAyMyIsImMzIjoiQ2hpY2Fnby5jYnNsb2NhbC5jb20ifSwiZGZwIjp7ImNsaWVudFNpZGUiOnsiYWRUYWdVcmwiOiJodHRwOi8vcHViYWRzLmcuZG91YmxlY2xpY2submV0L2dhbXBhZC9hZHM%2Fc3o9MngyJml1PS80MTI4L2Nicy5jaGkmY2l1X3N6cyZpbXBsPXMmZ2RmcF9yZXE9MSZlbnY9dnAmb3V0cHV0PXhtbF92YXN0MiZ1bnZpZXdlZF9wb3NpdGlvbl9zdGFydD0xJnVybD1bcmVmZXJyZXJfdXJsXSZkZXNjcmlwdGlvbl91cmw9W2Rlc2NyaXB0aW9uX3VybF0mY29ycmVsYXRvcj1bdGltZXN0YW1wXSIsImtleVZhbHVlcyI6eyJjYXRlZ29yaWVzIjoiW1tDQVRFR09SSUVTXV0iLCJwcm9ncmFtIjoiW1tQUk9HUkFNX05BTUVdXSIsInNpdGVTZWN0aW9uIjoiZmVhdHVyZWQifX19LCJyZWFsVGltZUFuYWx5dGljcyI6dHJ1ZSwiaGVhcnRiZWF0QmV0YSI6eyJhY2NvdW50IjoiY2JzbG9jYWwtZ2xvYmFsLXVuaWZpZWQiLCJwdWJsaXNoZXJJZCI6ImNic2xvY2FsIiwiam9iSWQiOiJzY192YSIsIm1hcmtldGluZ0Nsb3VkSWQiOiI4MjNCQTAzMzU1Njc0OTdGN0YwMDAxMDFAQWRvYmVPcmciLCJ0cmFja2luZ1NlcnZlciI6ImNic2RpZ2l0YWxtZWRpYS5oYi5vbXRyZGMubmV0IiwiY3VzdG9tVHJhY2tpbmdTZXJ2ZXIiOiJjYnNkaWdpdGFsbWVkaWEuZDEuc2Mub210cmRjLm5ldCIsImNoYXB0ZXJUcmFja2luZyI6ZmFsc2UsInZlcnNpb24iOiIxLjUiLCJwYXJlbnRQYWdlVVJMIjoiaHR0cDovL2NoaWNhZ28uY2JzbG9jYWwuY29tLzIwMTgvMDIvMTYvaW5tYXRlcy1jbGFwLXBsYXVkLWZvci1zdXNwZWN0LXBvbGljZS1vZmZpY2VyLW11cmRlci8%2FdXRtX3NvdXJjZT1uZXdzbGV0dGVyJnV0bV9tZWRpdW09ZW1haWwmdXRtX2NhbXBhaWduPWRhaWx5LWhlYWRsaW5lcyIsInBhcmVudFRpdGxlIjoiVklERU86IENvb2sgQ291bnR5IEphaWwgSW5tYXRlcyBDbGFwIEZvciBTdXNwZWN0IEluIENvcOKAmXMgTXVyZGVyIMKrIENCUyBDaGljYWdvIiwicEluc3RhbmNlIjoicDAiLCJwcm9maWxlIjoiY2JzbG9jYWwifX0sImh0bWw1Ijp0cnVlfQ%3D%3D" width ="640″ height="360″></iframe>[/et_pb_code][/et_pb_column][/et_pb_row][/et_pb_section]