DALLAS – There were extraordinary moments in the Dallas courtroom after Amber Guyger was sentenced to prison. These were passages of time that one reporter said he had never seen in 20 years of reporting crime.
The judge in the murder trial of Guyger, the former Dallas police officer sentenced to 10 years for fatally shooting her neighbor, caused a stir Wednesday when she hugged the woman convicted of murder after the sentencing. Moreover, the victim's brother also gave some love to the downtrodden ex-cop on her way to prison.
While some praised the judge's move as a demonstration of grace and faith in action, others bitterly called it "unacceptable."
Guyger, a four-year veteran of the Dallas Police Department, had been fired and charged with manslaughter after she entered Botham Jean's apartment on Sept. 6, 2018, thinking it was her own and shot him twice, killing him. She was indicted on a murder charge two months later.
Following Wednesday's sentencing, Judge Tammy Kemp comforted Jean's family, then briefly spoke with Guyger and left the room. However, the judge soon returned with a Bible, WFAA-TV of Dallas reported.
"You just need a tiny mustard seed of faith. You start with this," she said, giving the Bible to Guyger.
Kemp and Guyger then embraced. The hug came after the brother of murder victim Botham Jean made a similar gesture toward Guyger.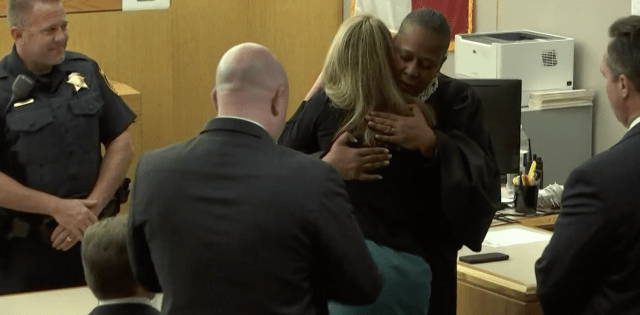 "You haven't done so much that you can't be forgiven," the judge told Guyger, according to WFAA. "You did something bad in one moment in time. What you do now matters."
The courtroom was brought to tears earlier when Jean's brother hugged Guyger and said, "I don't even want you to go to jail. I want the best for you because I know that's exactly what Botham would want."
Yet others who didn't have a vested interest in the case complained, including ex-ESPN anchor, and current Atlantic columnist, Jemele Hill.
Hill has been known for inflammatory comments that have done nothing to help race relations. Following the post-trial drama, she said, "[T]his judge choosing to hug this woman is unacceptable."
Over the past few years, the lighting-rod columnist has said things that people find "unacceptable." So perhaps she'll simply need to understand, that's the way it goes. Words can help heal, or continue to wound. Judge Kemp extended a personal touch of mercy, while Hill and those aligned with her refuse to embrace gracious behavior of this nature. Sadly, it is their loss while perpetuating the wounds of disharmony.
The anti-police narrative is "white police officer shot unarmed black man in his home."
They are in denial. The truth is this: A woman who was in possession of a firearm was scared out of her mind when she thought she encountered an intruder in her apartment. As a result, she gravely erred. (Yes, cops can make bad decisions, regardless of their training.) Her analysis was incorrect, and tragically the life of a wonderful man was prematurely snuffed out. The bell cannot be un-rung. Consequently, Guyger is going to prison to pay the penalty for her offense. And that is the way "the system" is handling it. Let's not criticize a judge or family member of the victim for showing acts of humanity, something we need to see more often.