DALLAS – Four officers with the Dallas Police Department were struck by a driver and injured during a standoff with a shooting suspect early Thursday, according to law enforcement authorities.
Police responded to a shooting about 3:10 a.m. in the 3100 block of Community Drive in a North Dallas neighborhood. One man was wounded and the suspect barricaded himself inside a residence along with two women and children, the Dallas Police Department said.
The victim sustained a gunshot wound to the leg and was transported to a local hospital in stable condition, FOX4 KDFW reported. 
As officers worked the scene, an uninvolved pickup truck driver drove through the perimeter and then around a fire truck and hit a marked patrol unit.
The collision was hard enough to cause an officer sitting in the front of the patrol car to be thrown from the vehicle, and then the police vehicle itself struck three additional officers who were using the unit as cover as they tried to get the suspect to surrender, police said.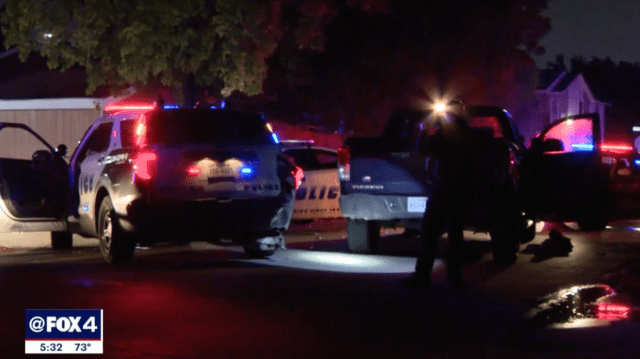 The officers were transported by ambulance to a nearby hospital.
The driver remained at the scene and was identified as 45-year-old Christopher Ramirez. He was arrested and charged with four counts of aggravated assault and four counts of passing an authorized emergency vehicle.
Law enforcement authorities said impairment was not a factor, Fox News reported.
Meanwhile, the shooting suspect, identified as 22-year-old Angel Morales, jumped out of a window and tried to evade capture. Officers were able to catch the suspect and take him into custody without incident, authorities said. 
Frederick Frazier is the first vice president of the Dallas Police Association. Speaking of perimeter barriers, he said, "You put them there for a reason. So folks don't go through that street."
"The one thing they're focused on is what's ahead of them. They're not focused on what's going to come behind them because they've got the fire truck," Frazier said. 
All four officers were later released from the hospital after receiving treatment for unspecified injuries.