PASADENA, Calif. – The American flag was limited to a single mounted participant during the 2023 Rose Parade in Pasadena, California this year. The United States Marine Corps Mounted Color Guard was the only unit allowed to display the Stars and Stripes during the annual New Years Day parade, held this year on Jan. 2 due to a longstanding tradition where it is not held on Sunday.
Watching the parade has always been a joy in my household. Being a native Southern Californian, I attended the event twice as a young adult and have embraced it for decades as a way to annually welcome in the New Year.
Yet while watching the parade Monday morning I was extremely disappointed to hear the local broadcast team on KTLA say the American flag would be limited during the parade. Actually, the script writers scribed a sentence that infuriated the patriotism within me.
"The Marine Color Guard is the only Rose Parade equestrian participants permitted to 'brandish' the flag, the American flag," said the commentator.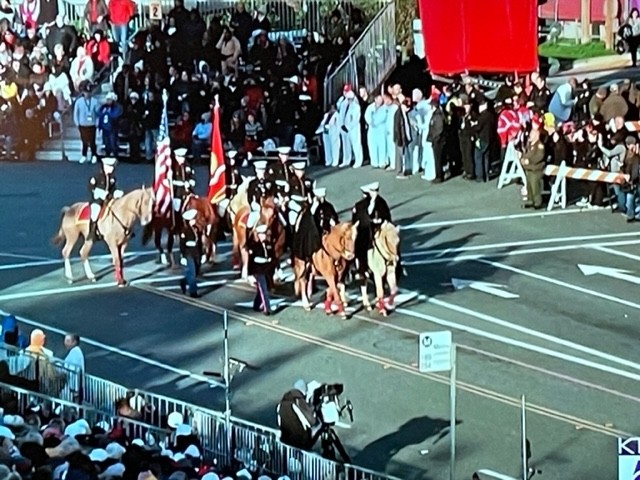 I thought I misunderstood his comments, so I had to rewind the telecast and listen for a second time. Not only did he say the flag would be limited to a single exposure by mounted units, but he said it was "brandished."
Wait, what? "Brandish" is something you do with a weapon, at least according to my law-enforcement-trained-brain. Perhaps my police-view of the term is off base?
So I found the word in the dictionary and discovered I was spot on.
"Wave or flourish (something, especially a weapon) as a threat or in anger or excitement," reads the Google dictionary.
Incredibly the writers of the Rose Parade script intentionally chose to say the American flag was "brandished," apparently as an "angry threat" in their estimation. … Why else would you choose to use this word?
In 2002 the Rose Parade was saturated with Red, White, and Blue following the tumult caused by 9/11, which devastated our nation just months before. Now, in 2023, the flag is apparently an offensive symbol that needs to be limited.
While the Elks Veteran Service was allowed to display the American flag in a floral arrangement on their float, I was saddened to watch several other military and law enforcement color guard units participating in the parade without the presence of the American flag, something that was stunning, in my estimation.
The restriction of the Stars and Stripes to a single participating group marching in the parade marks another chapter in the devastating cancel culture found in a country with increasingly floundering values.
---
MORE