CUYAHOGA COUNTY, Ohio — Tevin Biles-Thomas was a criminal defendant, charged with multiple counts of murder, involuntary manslaughter and felonious assault, Law Officer previously reported. On Tuesday, the brother of the iconic gymnast, Simone Biles, was acquitted in an Ohio courtroom of the triple homicide related to a New Year's Eve party shooting in 2018. The proceedings temporarily devolved into chaos as the mother of one of the murder victims charged toward Biles-Thomas shouting, "I'm going to kill you."
After Judge Joan Synenberg of the Cuyahoga County Common Pleas Court issued her ruling that acquitted Biles-Thomas, 24, a woman in the gallery at the Huntington Convention Center in Cleveland yelled, "You have to be f—-ng kidding me" and charged toward the defendant, FOX 8 Cleveland reported.
The woman was later identified as the mother of Delvante Johnson, one of the murder victims.
"He killed my baby! You know he killed my baby!" the woman continued, as body camera footage released by Cuyahoga County showed her get up from a folding chair and run toward Biles-Thomas. Three sheriff's deputies tackled the woman before she could reach the defendant.
"We get it, she's angry. She was led to believe Mr. Biles was guilty, when he wasn't, and she reacted like a mother. We don't fault her for that," Joseph Patituce, the defense attorney representing Biles-Thomas, said an interview with FOX 8.
Johnson, 19, was one of three men killed when gunfire broke out as a group of men arrived uninvited to a house party held at an Airbnb in Cleveland on Dec. 31, 2018, authorities said. Toshaun Banks, 21, and Devaughn Gibson, 23, were also killed.
"She lost a son and we understand, and we respect the fact that she has suffered horribly, her family has suffered horribly, just like the other families — including Mr. Biles," Patituce continued. "I mean, Mr. Biles' own cousin was murdered in this case and he had to sit there and stand trial with the accusation that he was responsible, murdered his own cousin, which simply wasn't true."
FOX reported the woman will not be charged with an offense.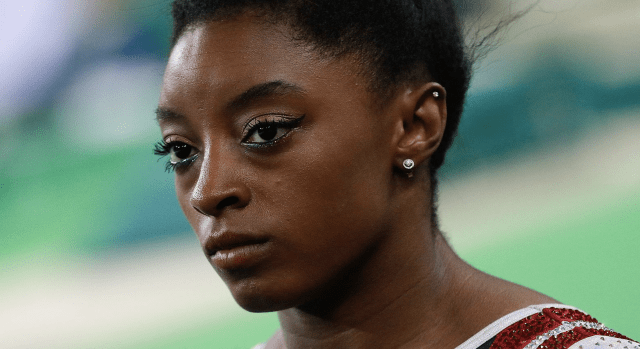 Simone Biles shared her grief following her brother's 2019 arrest, Law Officer reported.
"My heart aches for everyone involved, especially for the victims and their families," Biles wrote. There is nothing that I can say that will heal anyone's pain, but I do want to express my sincere condolences to everyone affected by this terrible tragedy. I ask everyone to please respect my family's privacy as we deal with our pain."