TOWSON, Md. — The defendant convicted of killing Baltimore County police Officer Amy Caprio in Parkville last year has been sentenced to life in prison with the possibility of parole.
After an eight-day trial, a jury found Dawnta Harris, 17, guilty of felony murder back in May, WBALTV reported.
Tears in the courtroom spilled out into the street. Caprio's mother, Deborah Sorrells, read an impact statement to the judge emphasizing choices and consequences.
"Can you imagine our lives without Amy? No. Amy is a special patch in each of our quilts. Sharing, talking about Amy keeps her alive in all of us. She's alive in spirit. Crap happens. I will not dwell on the negative. It is a deep, dank, bottomless pit filled with fear, anger and hopelessness. I can't go there. I'm afraid I couldn't escape," Sorrells said.
"There's no winners in this case. I think everybody has been affected in some way, probably most negative," Tim Caprio, husband to Amy, said. "I think that she was selfless. Always put others before her. She was the best person that I ever knew."
Caprio answered a 911 call to check out a suspicious Jeep just prior to her death. She spotted the vehicle driven by Harris and blocked its way. Caprio's body camera footage shows her jumping out of her patrol car and ordering the driver to stop.
Nevertheless, the Jeep eventually sped toward her. Harris ducked as Caprio fired once through the windshield, missing him before he ran her over.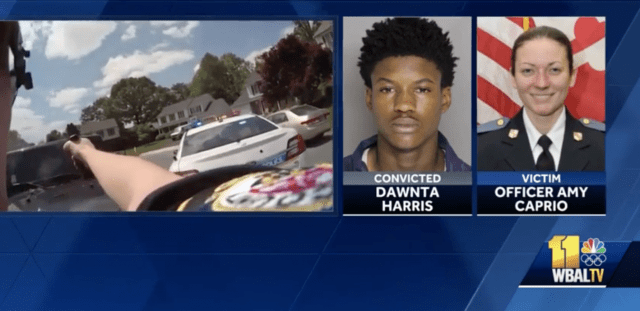 "She didn't back down. Maybe that's the result of being a soccer goalie when she was in elementary school, when she learned not to back off, but to stand your ground and take action," Garry Sorrells, Caprio's father, said after sentencing.
Garry Sorrells Officer Caprio's dad after sentencing: "she didn't back down.Maybe that's the result of being a soccer goalie when she was in elementary school when she learned not to back off, but to stand your ground and take action."

— David Collins (@dcollinsWBAL) August 21, 2019
As a result, the judge sentenced Harris to life with the possibility of parole. However, the judge will allow him to participate in a youthful offender program at Patuxent.
"I think one of the things that we tried to impress upon the court, and it was certainly the feeling of Dawnta: He did not intend to run over this officer," Warren Brown, Harris' defense attorney, said.
The newly convicted defendant did not address the court. However, his lawyers read a statement attributed to Harris: "I'm saddened and heartbroken about what happened. I didn't mean to hurt her. I just wanted to go home. It was a serious accident. I'm seeking forgiveness, a second chance."
"He's not heartless. He's a very deeply feeling young man, and he's expressed great emotion about this case," J. Wendell Gordan, Harris' defense attorney, said.
"No penalty can bring back Officer Caprio or eliminate the pain Mr. Harris inflicted on the family of Officer Caprio or the Perry Hall neighborhood I represent. I would like to thank the prosecutors who pursued the toughest sanctions allowed by law," Baltimore County Councilman David Marks said in a statement.
The three other teens also accused in Caprio's death will be sentenced in September. Derrell Ward, Eugene Genius and Derrick Matthews have each pleaded guilty in a deal with prosecutors to first-degree murder in exchange for a maximum 30 years in prison. As part of the plea deal, the state has also agreed to drop all additional first-degree burglary charges the teens face.
Caprio was killed just before her 30th birthday. When Harris was convicted May 1 Caprio's parents thanked the jury for their diligence and dedication but said they still don't have closure.