A man police say looked to be hallucinating tried to break into the Gainesville Police Department on Sunday morning, causing hundreds of dollars worth of damage, according to the police Facebook page.
As reported by AJC, Samuel Espejel-Sanchez, 32, is accused of climbing over a fence and breaking windows and doors to get inside, police said. Police arrested him about 3:30 a.m., saying he wasn't in the right state of mind.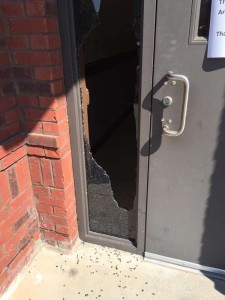 "He was bleeding heavily from injuries sustained while breaking in," police posted on Facebook. "Officers inside the police department heard glass shattering and loud noises coming from a secured area not open to the public. Officers encountered a deranged male subject in the hallway."
Espejel-Sanchez climbed over a fence into a secure area of the police department. He then broke two doors and two windows before gaining access, police said.
"He appeared to be hallucinating," the post said, adding that he thought people were after him.
He was arrested and charged with interference with government property, false report of a crime, burglary and being drunk in public.
"Please stay away from these synthetic drugs," Gainesville police warned social media followers. "They make you do crazy things, like break into a police department."