COVINGTON, Ga. – A Georgia police officer is stabilized after suffering a gunshot wound to the face Tuesday evening during a call of domestic violence at a hotel. The suspect involved in the shootout with police is dead, authorities said.
The officer, who was not publicly identified, was shot near his eye and the bullet lodged in his jaw, law enforcement sources told FOX 5 Atlanta.
The officer remains hospitalized undergoing critical care Wednesday morning, but is said to be in stable condition, according to the Covington Police Department.
"We ask our community and our surrounding friends for your prayers and positive thoughts during this time for our friend and colleague, the family and our CPD family," the department wrote on social media.
The gun battle took place when officers were dispatched about 10:30 p.m. to the OYO Hotel on Alcovy Road in Covington regarding a call of domestic violence between a couple checked into one of the rooms, FOX5 Atlanta reported.
A female witness staying at the hotel said the couple had been "arguing all night" and refused to open to door for responding officers.
Although someone eventually opened the door, the situation escalated, according to the woman. After the door was opened, she heard the officer repeatedly say, "Put the gun down," prior to the exchange of gunfire.
COVINGTON OFFICER SHOT: Gunfight w domestic dispute suspect sends officer to Grady. Male suspect killed by other officer. Officer shot in head, sources say near his eye & bullet lodged in his jaw. At last check in stable condition. Live reports on @GoodDayAtlanta @FOX5Atlanta pic.twitter.com/3fQGHsaDY6

— Marc Teichner (@mteichnerfox5) May 24, 2023
The officer went down after sustaining a gunshot wound to his face. As the gunman aimed the weapon at the downed officer, another officer returned fire, killing the suspect, the Georgia Bureau of Investigation said.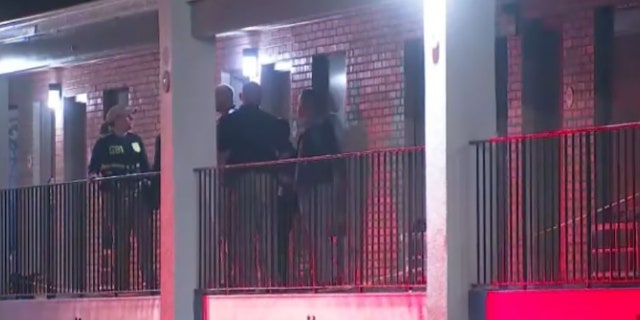 GBI identified the deceased suspect as 23-year-old Treyvorius Stodghill, FOX News reported.
No one else was injured during the gun battle. It was unclear if a survivor sustained injuries due to the domestic violence altercation.