FORT WORTH, Texas – The Fort Worth police officer accused of shooting a woman inside her home over the weekend, killing her, has been jailed on a murder charge, online court records revealed Monday.
The murder charge against Aaron Dean was made public hours after the officer resigned from the department. Bond was set at $200,000, reported The Dallas Morning News.
Dean's resignation was announced earlier in the day by Interim Police Chief Ed Kraus. Exacerbating the controversy is race; the officer is white, while the shooting victim is black.
Atatiana Jefferson, 28, died after being shot early Saturday by an officer who'd been summoned to her Fort Worth home to conduct a welfare check by a neighbor who reported seeing Jefferson's front door open. Bodycam footage released by police showed two officers canvassing the property before one shouted, "Put your hands up, show me your hands," and then fired through a window.
Kraus on Monday identified the officer involved in the shooting as Dean. He said the officer was placed on detached duty and stripped of his badge and firearm after he was served with his written administrative complaint Sunday.
"My intent was to meet with him today to terminate his employment with the Fort Worth Police Department. However, the officer tendered his resignation this morning before we met," Kraus told reporters Monday. "Even though he no longer works for the city, we will continue the administrative investigation as if he did. The case will be completed and reviewed by the chain of command.
"Had the officer not resigned I would have fired him for violations of several policies including our use of force policy, our de-escalation policy and unprofessional conduct," Kraus added.
---
---
Kraus said Dean resigned before he answered any questions.
"He resigned before his opportunity to be cooperative," Kraus said.
The chief said the department normally investigates officer-involved shootings with two separate but concurrent processes: an internal affairs investigation and a criminal investigation, with the criminal investigation taking precedence.
Fort Worth police spokesman Sgt. Chris Daniels said at a brief news conference Monday night that the department took Dean into custody about 6 p.m. He said the department is still "working diligently to complete the criminal and administrative investigations" and is in close contact with the Tarrant County district attorney's office.
Police did not take any questions at the news conference. The chief is expected to provide an update Tuesday.
Mayor Betsy Price, appearing next to Kraus, said Jefferson was "unjustly taken from her family" and that city leadership has set in place motions to bring a "third party panel of national experts" in to review the city's police department.
"To Atatiana's family: It's unacceptable," she said. "There is nothing that could justify what happened on Saturday morning. Nothing."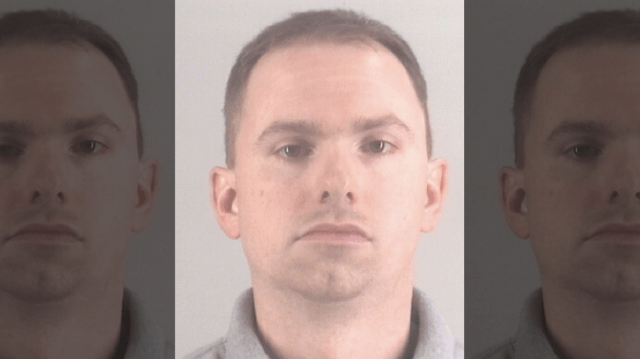 Fort Worth police said in a statement that after "perceiving a threat, the officer drew his duty weapon and fired one shot, striking the person inside the residence." Officers then entered the house, located a firearm and started performing emergency medical care, investigators said.
The department released bodycam footage of the incident "to provide transparent and relevant information to the public as we are allowed within the confines of the" investigation, it stated. Any video taken inside the house could not be distributed due to state law.
However, the bodycam video released to media included blurred still frames showing a gun inside a bedroom at the home, The Associated Press reported. It's unclear if the firearm was found near Jefferson, and police have not said that the officer who shot her thought she had a gun.
Police Lt. Brandon O'Neil said Sunday afternoon that Dean had been with the department since April 2018.
O'Neil also said Jefferson's 8-year-old nephew was in the room with Jefferson when she was shot.
---
---
The Fort Worth Police Officers Association, in a statement released to media, announced it was "urging the Fort Worth police department to conduct a thorough and transparent investigation, and through that investigation, we hope to gain clarity and understanding of what exactly transpired."
"Police officers take an oath to protect and serve all citizens in our great city and it is every officers' worst fear to use deadly force in the line of duty," it added. "We are thankful for our community leaders who seek to unite during times of grief instead of divide and we hope that collaboration and peace will help guide us forward."
Jefferson was a 2014 graduate of Xavier University in New Orleans and earned a bachelor's degree in biology, the university said.
State law enforcement records show Dean's most recent training was 40 hours of crisis intervention training in August. As previously confirmed, he became a full-time peace officer April 13. 2018, and earned a bachelor's degree from the University of Texas at Arlington. No law enforcement history besides Fort Worth police, is listed on his record.
The Combined Law Enforcement Associations of Texas said in a written statement that its legal team will represent the former officer.
The charge against Dean came less than two weeks after former Dallas police Officer Amber Guyger was convicted of murder for shooting Botham Jean in his apartment last year. Guyger, who said she believed that she was at her apartment and that he was an intruder, was sentenced to 10 years in prison.