SANTA ROSA, Calif. — Federal agents have ignored a new California law that preposterously says police cannot take illegal immigrants into custody at a courthouse … and their actions have local officials fit to be tied.
Sonoma County District Attorney Jill Ravitch, Public Defender Kathleen Pozzi and County Counsel Bruce Goldstein issued a statement condemning at least three arrests made Tuesday by U.S. Immigration and Customs – ICE– agents at and near the Sonoma County Superior Courthouse in Santa Rosa, the Healdsburg Patch reported.
"ICE detention actions have no place in the court building, where they have the effect of scaring away witnesses and victims, and undermines the District Attorney's Office ability to hold the guilty accountable and protect crime victims," Ravitch said.
According to the DA's Office, Sonoma County Sheriff Mark Essick confirmed sheriff's dispatchers received a report at 7:45 a.m. Tuesday that ICE agents were at 600 Mendocino Ave., which is the address not only of Sonoma County Superior Court's Criminal Division, but the DA's Office and the Office of the Public Defender.
"[Essick] stated that 'the Sheriff's Office did not collaborate with Homeland Security agents in these courthouse arrests and has strict policies regarding any coordination with ICE,'" according to the statement Tuesday from the DA's Office.
Goldstein went as far as to call Tuesday's ICE arrests "lawless."
Well, isn't that the pot calling the kettle black?
Moreover, he said they "are carried out without judicial warrants and violate recently passed state law prohibiting civil arrests at a courthouse."
It would be mildly interesting to watch California try to prosecute federal agents performing their duties, regardless of the newly enacted ridiculous law. (See Supremacy Clause at the end of this article.)
Goldstein claims the arrests "undermine our system of justice."
It sounds like he's consumed the entire pitcher of Kool-Aid.
Perhaps they should consider their sanctuary policies and laws as the actual cause to degrading public safety. If the state would cooperate with the feds, many of these same individuals could be safely taken into custody when they are released from county jails. So, it is the state of California, which is undermining federal law and creating risk to federal agents and illegal immigrant alike by forcing these arrests in locations like a courthouse or elsewhere.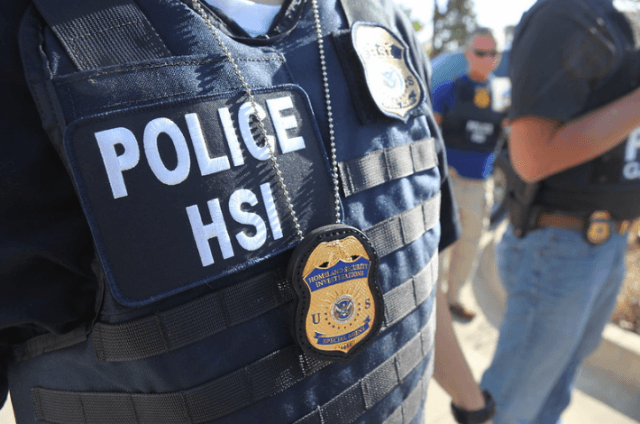 Ravitch previously complained to the Trump administration regarding federal agents making arrests in courthouses.
As you might expect, Pozzi agreed, saying: "ICE operations have no place in the Court building."
"The public should know that ICE enforcement affects everyone, including witnesses, victims and those coming to the courthouse on non-serious offenses," Pozzi said.
Yet that is a smokescreen shielding their politics. Actually, based upon the number of crimes committed by people illegally in the country, it would actually reduce their caseloads.
A spokesman for ICE in Northern California confirmed ICE agents were in Santa Rosa Tuesday at the Sonoma County Courthouse on Mendocino Avenue. The agents made two arrests, according to U.S. Department of Homeland Security Public Affairs Specialist Jonathan Moor.
"The two individuals were previously arrested by local law enforcement and later released back into the community," Moor said in a statement sent to Patch. "U.S. Immigration and Customs Enforcement (ICE) officers arrested the individuals at the Sonoma County Courthouse on Feb. 18."
So, there you have it. Although Moor didn't specifically cite "ignored detainers" in this instance, that is usually the case. And when they are discarded, federal agents are tasked with other options to find people who've already proven to flaunt the law.
Both men taken into custody at the Sonoma County Court are Mexican citizens in the United States illegally, Moor said. As of 4:30 p.m. Wednesday, both men were still in ICE custody.
Moor identified one of the men as Antonio Hernandez Lopez, and said that when arrested Tuesday, Lopez had charges pending against him in connection with his arrest Dec. 24 by Santa Rosa police.
The arrest charges filed against Lopez by the Santa Rosa Police Department were: inflicting corporal injury to spouse, DUI and preventing a witness from reporting, Moor said.
"Those charges are pending," Moor said. "He has a 2005 DUI conviction and a 2009 local ordinance conviction. He has been apprehended by U.S. Immigration officers four times between 2004 – 2007 and voluntarily returned to Mexico. He is in ICE custody pending immigration proceedings."
Moreover, on Tuesday at the Sonoma County Courthouse, ICE agents also arrested Pedro Romero Aguirre.
"[Aguirre] has five criminal convictions spanning more than a decade, including: misdemeanor trespassing, driving without a license, misdemeanor DUI/alcohol, illegal entry, and most recently, Feb. 28, 2019 conviction for misdemeanor battery," Moor said. "In 2010, he was apprehended six times by U.S. Immigration officers. He voluntarily returned to Mexico three of those times and was ordered to be removed three subsequent times. He is in ICE custody pending removal."
Sonoma County officials were so incensed by the arrests in their courthouse, their chafing motivated the public statement of condemnation. Read here if you'd like to be nauseated.
Nevertheless, San Francisco's U.S. Immigration and Customs Enforcement Field Office Director David Jennings responded with a little lesson in the law.
"Under the Supremacy Clause of the United States Constitution, California Assembly Bill 668 cannot and will not govern the conduct of federal officers acting pursuant to duly-enacted laws passed by Congress that provide the authority to make administrative arrests of removable aliens inside the United States," Jennings said. "Our officers will not have their hands tied by sanctuary rules when enforcing immigration laws to remove criminal aliens from our communities."
– Jim McNeff