DECATUR TOWNSHIP, Pa. – A car launched into the air and became wedged in the second-floor bedroom of a Pennsylvania home, where it remained dangling Sunday afternoon in a bizarre scene that resembled a stunt from an action movie. The driver was injured and transported to the hospital in what investigators are calling an intentional act.
A spokesperson from Junction Fire Company said crews were dispatched to the 800 block of Alfarata Road in Decatur Township at around 3:15 p.m. regarding the bizarre incident, ABC 27 reported.
Firefighters arrived "within minutes" to find the driver's side of the Toyota Corolla wedged into a second-floor room. The car, which has Pennsylvania plates, sits atop a lower roof over the front porch of the home as the front of the car is smashed into a now-crooked dormer with large splinterings of wood scattered on the roof and lawn below.
The driver exited the vehicle and was transported to Geisinger Lewistown Hospital in unknown condition for treatment, WHTM reported.
Photos released by the Fire Company showed the passenger's side of the vehicle came to rest on the roof while the trunk and rear tires hung off the home.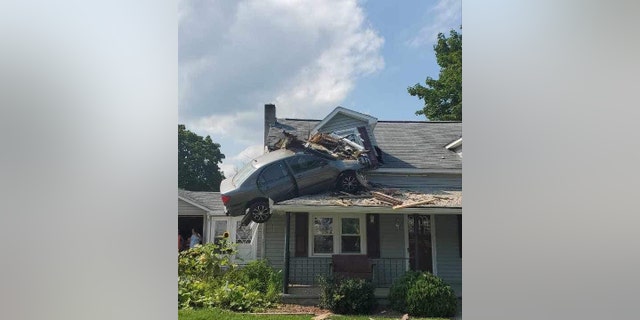 Officials with the Junction Fire Company said the driver struck a culvert, which may have caused the driver to lose control and go airborne, Fox News reported.
However, the Pennsylvania State Police said its investigators believe the crash was not an accident, according to the New York Post.