NEW YORK – Jordan Neely was a homeless man who was reportedly suffering from mental illness. He was also well-known to officials in New York City, and had a lengthy criminal history that remained unabated. One particular criminal offense is rather disturbing, and the details have remained largely unreported.
During the subway ride on the northbound F train on May 1, which led to Neely's death, he began ranting wildly, according to witnesses. The 30-year-old man told commuters that he was prepared to spend the rest of his life in prison before a group of people made the decision to take him down and restrain him, with Marine veteran Daniel Penny, 24, taking a primary role by placing the erratic man in a carotid restraint (rear-naked choke) hold.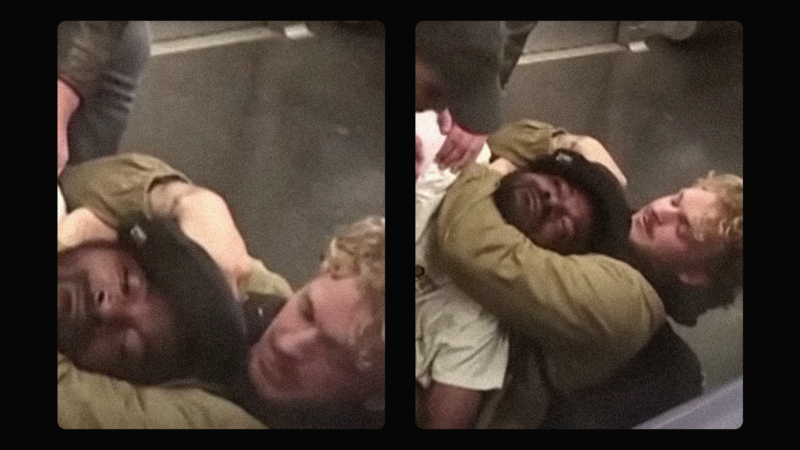 Daniel Penny is seen applying a vascular restraint hold on Jordan Neely. (Screenshot video Juan Alberto Vazquez)
One of the witnesses, a 66-year-old woman, articulated Neely's invective with comments to the New York Post. "He said, 'I don't care. I'll take a bullet, I'll go to jail' because he would kill people on the train. He said, 'I would kill a motherf—er. I don't care. I'll take a bullet. I'll go to jail.'"
Despite Neely's propensity for violence, he quickly became the latest martyr of Leftwing politicians and activists as they try to convince the rest of the country that we (the U.S.) are nothing but a bunch of racists.
Nearly every news outlet covering the case has noted that Penny put Neely in what proved to be a fatal chokehold, per a coroner.
However, what most journalists fail to report is that Neely had been arrested 42 times as an adult and that some of those crimes were particularly depraved, reported The Western Journal.
One specific criminal offense was buried deep within an article published by the New York Daily News. The news outlet reported 23 paragraphs into its story that Neely once tried to kidnap a seven-year-old girl.
"[Neely] was busted in August 2015 for attempted kidnapping after he was seen dragging a 7-year-old girl down an Inwood street. He pled guilty to endangering the welfare of a child and was sentenced to four months in jail."
That's it!?! Four months in jail for forcefully "dragging a 7-year-old girl" away? When progressives erect statues of Neely — ala George Floyd — I hope people remember this crime.
Before the fateful May 1 subway journey, Neely was clearly perceived as a dangerous individual, and the fear was justified, not because of his race, but his behavior. Sadly, prosecutors like Alvin Bragg expect good people to suffer injuries before fighting back. And even then, they want it to be measured in feeble doses that may or may not be effective.
Admittedly, I was not present when actions were taken against Neely. Would I have done the same thing or taken another tact? I don't know. But I am certain that I would not allow a vile perpetrator to endanger the lives of others.
Coincidentally, I was visiting Ground Zero in Manhattan one week before this incident. I almost chose to remain unarmed while riding the subway because of a fear that I'd need to defend myself and wind up in the crosshairs of DA Bragg. Nevertheless, I opted to remain armed (under the authority of federal statute as an honorably retired police officer with annual qualification) and felt much safer doing so. Yet after hearing about the Daniel Penny/Jordan Neely encounter, I simply thought, "There but for the grace of God, go I."
No one wanted Neely to die, but he was his own worst enemy. In all likelihood, Penny believed he was looking out for the interest of other passengers who feared for their safety. Now he is facing one count of second-degree manslaughter due to Neely's death, despite fellow passengers complimenting him for taking action when the unstable individual was "making threats and scaring passengers."
In the opinion of many people, the prosecution of Penny is vexatious. That is why individuals have coughed up more than $2 million for his defense fund as of Monday, including a $5,000 contribution from Kid Rock.
---
MORE