CINCINNATI – A Cincinnati police officer whose attorney says he was "brutally attacked" after responding to a call for service at the Westwood YMCA last year has sued the suspect charged with violently assaulting him and the suspect's mother.
Doug Utecht's lawsuit, filed Tuesday in Hamilton County Common Pleas Court, names Durrell Nichols, 25, who weighs 300 pounds and has mental health issues, and Lakisha McMillan, who acts as his primary caretaker which includes ensuring he regularly takes his anti-psychotic medications, reported FOX19 NOW.
Utecht and several other officers responded to the Gamble-Nippert YMCA on June 6, 2019, after staff reported a man was refusing to leave the gym.
Upon arrival they found Nichols acting disorderly. As a result, they repeatedly tried to get him to leave the gym before attempting to arrest him.
According to the lawsuit, Utecht attempted to de-escalate the situation and calm down Nichols, but he responded violently to Utecht and his partner. Nichols brutally assaulted Utecht, causing serious injuries including lacerations to his face and broken facial bones.
"This officer was grievously injured in the line of duty and he's got legitimate claims against the people who are responsible," said Utecht's lawyer, Zach Gottesman of downtown Cincinnati.
"The officer did everything he could to de-escalate the situation and he was brutally attacked. The YMCA video will be available at some point and it will show the brutality of the attack. It is horrifying. The brutality of the attack is horrifying: A 300-pound man beating an unconscious police officer in the face."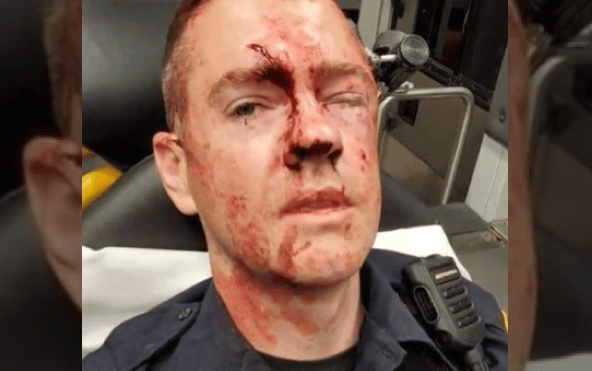 Nichols was arrested. Consequently, he faces several charges, which include felony assault, assault, resisting arrest, disorderly conduct, criminal trespass, obstructing official business and aggravated robbery, according to court records.
He remains in custody at the Hamilton County jail on $150,000 bond, according to FO1X19.
Although Nichols was previously determined incompetent to stand trial, that assessment was recently reversed after undergoing treatment, according to court documents. Therefore, the criminal proceedings are set to resume.
Nichols was scheduled to appear before Hamilton County Common Pleas Court Judge Charles Kubicki Jr. on Thursday.
As a direct result of the attack, Utecht suffered "extreme pain and suffering and will have permanent scarring and disfigurement from the injuries, the suit alleges.
The officer also incurred "economic damages including lost wages, past medical expenses and will incur future medical expenses in an amount that cannot yet be determined."
Utecht's lawsuit accuses Nichols of failing to follow his prescription medication regimen to prevent psychotic episodes. It also says he knew, or he should have known he presented a risk of harm to others if he failed to follow it.
His mother, the suit goes on to allege, failed to monitor her son's mental health status or to ensure he regularly took his anti-psychotic medications despite knowing he presented a risk to himself and others during psychotic episodes.
After her son was arrested, McMillan "knowingly made a series of false and defamatory statements" about the officer and his conduct as a police officer which she intended to cause Utecht professional and reputational harm, according to the suit.
It demands a jury trial and damages in excess of more than $25,000, legal costs, attorneys' fees, and "such other relief" the court deems appropriate.
To add insult to injury, Utecht and two other officers, Andrew Snape and Joshua Wallet, are now under investigation by Cincinnati's Citizen Complaint Authority (CCA). The excessive force complaint was generated by a third-party at the YMCA.
"The complaint is obviously false and the officers' body camera footage makes clear that what the complainant said occurred is complete fiction," Gottesman said.
CCA operates independently from the Cincinnati Police Department and reviews allegations of police misconduct and incidents. It conducts its own investigations into police use of force and reports its findings to the city manager.
The police union president has argued the officers should not be investigated by the complaint board until the criminal case against Nichols wraps up.
He has stressed he is not against oversight but said testifying before the complaint board could jeopardize the criminal case.
The issue has been a controversial one for years.