NEW YORK – Accused cop-shooter Robert Williams flashed a grin as he left a Bronx court after an appearance Friday — as dozens of NYPD officers looked on with distaste.
Minutes earlier, Williams was frowning as a judge set a date for his arraignment on the indictment. He faces attempted-murder charges for attacking two NYPD officers in less than a day.
Yet the criminal defendant, in orange jumpsuit and handcuffs, flashed his family a smile after a relative proclaimed, "We love you, Robert!" as he walked out of the Bronx Supreme courtroom, reported the New York Post.
According to the Post, there were more than 50 police officers in the courtroom to show support for their wounded partners, who escaped death during the attacks last weekend.
On Feb. 8, Williams, 45, fired shots into a marked NYPD van near the corner of Simpson and Fox streets in The Bronx, grazing the neck and chin of an officer inside, authorities have said.
Less than 12 hours later, he opened fire at the 41st Precinct station house with a 9mm SIG Sauer pistol, striking a lieutenant in the upper left arm before running out of ammo and surrendering, police allege.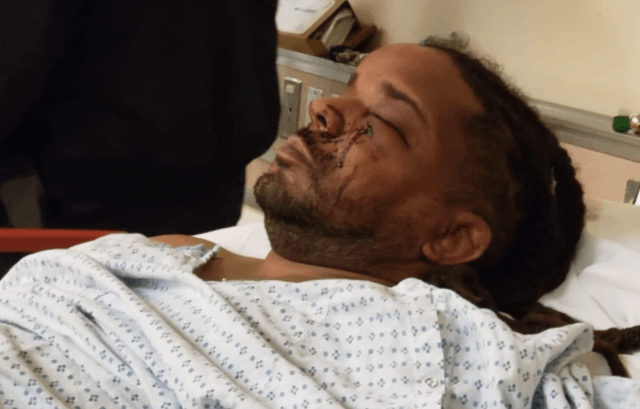 "I'm going to shoot one of you when I get out," Williams snarled to officers while laid up in Lincoln Hospital last Sunday, according to prosecutors.
On Thursday, some police sources suggested there was doubt over whether Williams was responsible for both shootings after it emerged that someone else had made another threat against police.
But a high-ranking law-enforcement source told The Post investigators now firmly believe that the same gun was used in both shootings and that Williams is the one who fired it in each instance.
About a dozen of Williams' friends and family members filled two rows of the courtroom for Friday's hearing, sitting across from the police officers, including Police Benevolent Association President Pat Lynch.
Williams' relatives claim he went off the rails when his son was killed during accidental gunplay two years ago.
But Lynch told reporters Friday, "Many people — citizens, police officers alike — deal with tragedies in their lives . . . They don't go out and try to ­assassinate police officers.
"We say [Williams] should get treatment . . . He should get that treatment behind bars.''
Williams' next court date is scheduled for March 6.
His family attending the hearing declined to comment.
However, his grandmother, Mary Williams, 80, had a few things to say about his wayward ways.
"I would tell him to get his life straight," Mary Williams said.
"Don't do things like that because I love him and God loves him and he was raised up in the church."
Although he's a parolee with a long history of violent crime arrests, she said her grandson had no beef with police that she knew about, the New York Daily News reported.
"He stayed in the house," she said. "Sometimes he would go with me to the laundromat or to the store or whatever. So no, he didn't have no problem with the police."
"Sometimes he was very quiet," she added. "He goes and sits and watches TV and he's kind of quiet in his room. I've talked to him and asked him was he all right and he'd say, 'Yeah, Grandma.'"
Sadly, it appears his grandmother didn't know him as well as she thought.