BATON ROUGE, La. – Baton Rouge Police officials released the names of the two officers involved in a shooting that left one dead and one critically injured Sunday afternoon.
Lt. Glenn Hutto Jr., 45, died from gunshot injuries during a shooting that occurred around 12:30 p.m. on Conrad Drive. Hutto was a 21-year veteran of the police department. He was promoted to the rank of lieutenant posthumously, reported The Advocate.
Cpl. Derrick Maglone, a 7-year veteran, was critically injured during the shooting. He was transported to a local hospital and is recovering from his injuries.
Maglone, 35, was named officer of the month in May 2016 "because of his dedication to professionalism and commitment to service," an announcement at the time read. He worked as an officer with the mounted division and would attend community events with his horse.
"A lesson that we can take from this incident, is that the Officers of the Baton Rouge Police Department will make the ultimate sacrifice for our community," said leaders of the Baton Rouge Union of Police in a statement. "This is something they have done in the past, and they will continue to do in the future because it is the oath that they have taken and it is what they believe in. Our Community is blessed to have this type of undeniable dedication."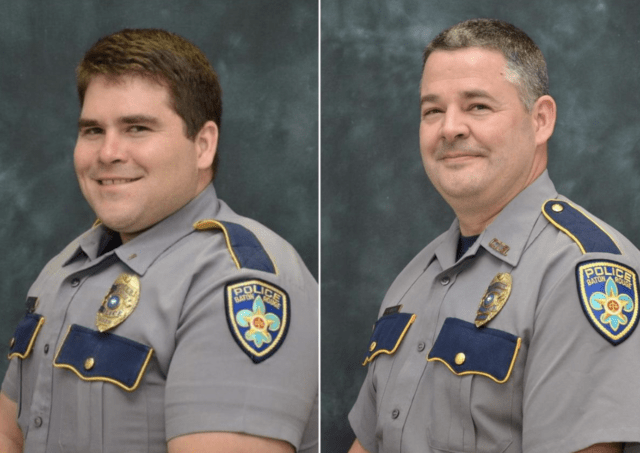 Local law enforcement agencies organized a funeral procession for Hutto on Tuesday afternoon, escorting his body from the coroner's office in North Baton Rouge to a funeral home downtown.
———
Original story:
BATON ROUGE, La. – Police revealed grueling details Monday of a shooting standoff in which the suspected gunman ambushed two officers sent to interview him about a killing hours earlier, then reportedly stood over a dead officer's body while continuing to shoot him at point-blank range, according to reports.
Ronnie DeWayne Kato Jr., 36, engaged in a four-hour standoff with Baton Rouge officers and SWAT team members on Sunday while he was barricaded in a house. One officer was killed while another remains hospitalized in critical condition.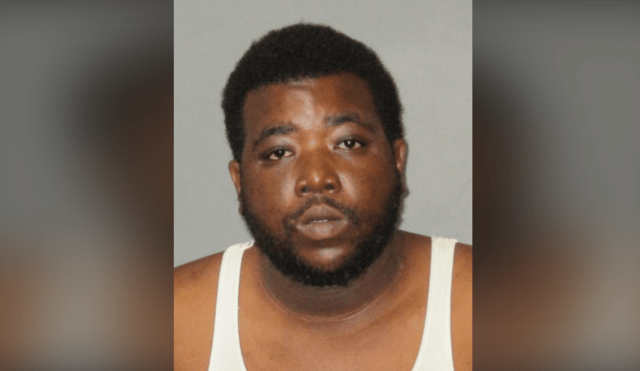 Earlier in the day, Kato reportedly ambushed his girlfriend of 18 years at her mother's house, kicked down the door and pistol-whipped her, according to an affidavit supporting the first warrant for Kato's arrest, The Advocate reported.
The girlfriend's mother stopped him before he entered the house, but he went back outside, retrieved a rifle and shot and killed a man at the house, who was one of five adults living there, detectives said. Police identified the man as Curtis Richardson, 58, according to local news organizations.
Afterward, officers went to the house for a "knock and talk" with Kato and tried to secure the backyard to prevent him from escaping, the second affidavit read.
"As they approached the backyard Kato opened fire with an assault style rifle striking both officers," police said, killing one officer. "Evidence on scene indicated that the suspect stood over the deceased officer and shot him multiple times with an assault style rifle. Several of the wounds appeared to be close contact."
Both officers were transported to the hospital, but the affidavit reveals one had already died on the scene.
Baton Rouge Police Chief Murphy Paul gave a short media briefing outside the house on Conrad Drive after Kato had been taken into custody Sunday night. The chief didn't release the names of the officers who were shot but asked the community to pray for his department.
He said the officer who was killed was a BRPD veteran who had served for 21 years.
"Our officers — talk about being public servants and the responsibility that comes along with being a law enforcement officer," Paul said during a short media briefing at the scene Sunday. "This is a call no chief wants to get."
The second officer remains hospitalized, but was "doing a lot better," Sgt. L'Jean McKneely Jr., a spokesman for the Baton Rouge Police Department, told reporters Monday.
Kato was arrested on two counts of murder, six counts of attempted murder, five counts of home invasion and one of aggravated battery, reported Fox News.
According to his girlfriend, Kato had threatened to kill police several years ago, threatening to "Gavin Long" officers, according to a complaint the girlfriend filed against him in 2017. That was a reference to Gavin Eugene Long, whose case from four years ago in Baton Rouge bore familiarities to Sunday's shooting incident with Kato.
Long was a member of a black anti-government movement who shot six police officers in 2016, killing three and wounding three others. He was arrested after an long standoff in which shots were exchanged with a SWAT team. That ambush unfolded two days after an OIS involving a white officer and a black suspect in Louisiana's capital.
Kato did not have any known links to such groups, McKneely said.
Despite the complaint by Kato's girlfriend, no charges were filed against him, according to reports by The Advocate.
Prior to that, Kato had two drug possession cases against him, in 2001 and 2010, but charges against him were dropped in the second case.
Civil court records also showed no signs that Kato's girlfriend or anyone else had requested temporary protection from abuse, the newspaper reported.