UPDATE:
Police have charged 23 people with domestic terrorism after a violent clash between police and protesters at the site of Atlanta's future Public Safety Training Facility.
In total, the Atlanta Police Department said 35 "agitators" have been arrested. It remains unclear what charges the additional 12 people will possibly face.
JUST IN: Dekalb County just released the 23 mugshots pic.twitter.com/eGwKbWiRZv

— Michael Seiden (@SeidenWSBTV) March 6, 2023
---
ATLANTA – Rioters hurled bricks and Molotov cocktails at law enforcement officers while smoke and flames erupted from vehicles set on fire Sunday at the location of a future police training facility in Atlanta. Dozens of people were arrested during the violent clash between police and agitators at the site, FOX 5 Atlanta reported.
The news agency posted video on its website of construction equipment in flames as well as a section of grass. The video also showed a large presence of law enforcement officers, with Georgia State Troopers situating their police units to keep people away from the scene.
The DeKalb County construction site in the southeast section of Atlanta on Key Road was on lockdown as crews worked to put out flames around the area. According to the Atlanta Police Department, 35 agitators were taken into custody. It remains unclear what charges they will face.
UPDATE: Multiple law enforcement agencies have locked down Key Road SE while officers secure the site that has been referred to as "Cop City" by @defendATLforest / #StopCopCity protesters. Protesters held a rally nearby at 5PM and began to march toward the area currently under… https://t.co/YRsJGUUeQF pic.twitter.com/OcKhRJTVTa

— Billy Heath III (@BillyHeathFOX5) March 6, 2023
During a Sunday night press conference, Atlanta Police Chief Darin Schierbaum said most of the people who were detained during the civil unrest appear to be from out of the Atlanta area and will face the appropriate charges.
"This was about anarchy," Schierbaum said, according to the Daily Wire.
Protesters have objected to the construction of the new facility they've dubbed "Cop City" from the earliest stages of planning. Antagonists from around the country have participated in protests, with many being arrested along the way.
---
RELATED
---
The City Council approved spending $90 million on the training center in 2021 with hopes it would replace substandard offerings and boost police morale that took a heavy hit in hiring and retention challenges following 2020 nationwide protests in the wake of George Floyd's death, FOX News reported.
Radical activists who oppose the facility are self-described as "forest defenders." They make the claim that "Cop City" will cause an environmentally damaging loss of trees and the training facility will be used to practice "urban warfare."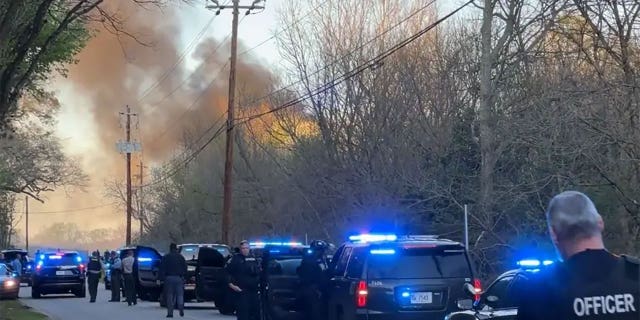 Protesters began camping in the area designated for the training facility in June 2021, FOX 5 reported.
Since December, at least 19 people have been arrested and charged with domestic terrorism in connection to protesting the training facility for Atlanta's first responders. The construction site is on 85 wooded acres and was a former prison farm.