DETROIT – Democratic Rep. Rashida Tlaib told Detroit's chief of police that he should hire only black people as analysts to run their facial recognition software because, she claimed, non-black people think they all look alike.
The suggestion came Monday as Chief James Craig gave Tlaib a tour of the Real Time Crime Center, where the department uses facial recognition technology to find suspects. Craig was showing Tlaib how the software works, and how analysts use it to identify and locate individuals.
"Analysts need to be African-Americans, not people that are not. It's true, I think non-African-Americans think African-Americans all look the same!"

– Rep. Rashida Tlaib
However, the tour quickly turned contentious as the freshman Michigan congresswoman made ignorantly absurd comments that were shot down by the chief.
"Analysts need to be African-Americans, not people that are not," Tlaib said. "It's true, I think non-African-Americans think African-Americans all look the same!" She said she has witnessed people confuse Reps. John Lewis, D-Ga., and Elijah Cummings, D-Md., who both are black and bald, The Detroit News reported.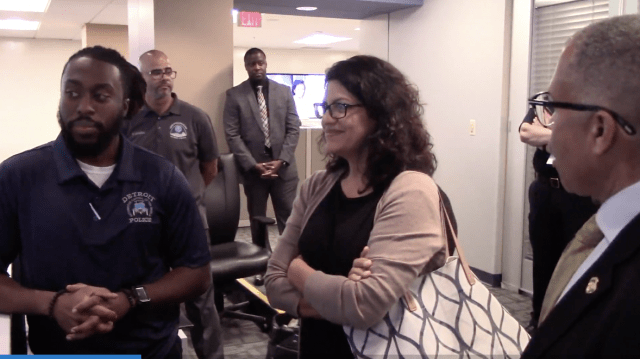 Craig, who is black, did a superb job deflecting her analogy. He emphasized training, which is part of the program.
"I trust people who are trained, regardless of race, regardless of gender," he responded.
This came after Tlaib claimed that "the error rate among African-Americans, especially women," was 60 percent.
"I understand the technology real well," Craig said. He showed Tlaib how his analysts examine the software's results before making determinations.
Yet Tlaib seemed to disregard the chief's opinion.
"See if you can get some of our money back until they fix it," Tlaib said, to which Craig simply replied, "No."
Tlaib seemed convinced that defendants were prosecuted solely based upon the results of facial recognition software. Craig tried to assure her that was not the case.
"I trust people who are trained, regardless of race, regardless of gender."

– Chief James Craig
The tour, which was recorded and then posted by a reporter with The Detroit News, got off to a rocky start when Tlaib asked the reporter, "Are you facial recognizing me right now? I'm sorry who are you and why are you videotaping me?"
WATCH THE VIDEO:
Afterward, the Detroit News reporter followed up on Tlaib's assertion that only black people should be hired to use the facial recognition software.
"Are you saying white people are not qualified to –," he said, before Tlaib cut him off.
"No, I think there's actually been studies out that it's hard for, you know, like African-Americans would identify African-Americans, similar, Latino same thing," she said.
When asked if that would mean African-Americans should not be allowed to identify white people, Tlaib said, "Look it up," and walked away without further clarifying her absurd statement.
The Detroit Police Department extended the invitation to Tlaib in August, after she described facial recognition technology as "bulls—."
@RashidaTlaib Before you criticize the software, come to our Real Time Crime Center to see how we @detroitpolice responsibly use it in efforts to identify criminals involved in violent crimes. Let's set a date. https://t.co/aR7DOjQe2a

— Detroit Police Dept. (@detroitpolice) August 20, 2019
Michigan State Police Lt. Michael Shaw said there are many misconceptions about facial recognition software, and said people mistakenly think it misidentifies people based on skin color.
"The software doesn't work on gender or race; it works on facial measurements," Shaw said. "If you have a good photo, the photo array will come back with people with the same facial makeup, whether they're male, female, black, white or whatever. It's all about things like the spacing between the eyes, or where the ears are on the side of your head.
"That's where the human element comes in," said Shaw, whose agency has used facial recognition technology for more than 17 years. "If you know you're looking for a white male, and the system kicks out a white female, or a black male, or whatever, then a technician will flag that. Nobody uses the software on its own."
Shaw said state police train constantly to guard against bias.
"There's implicit bias in everything we do," he said. "You just heard it in (Tlaib's) comments."
During the tour, Tlaib seemed far more concerned for the welfare of criminal defendants than victims. Although Craig calmly tried to articulate the responsibility a police agency has to solve crime on behalf of the community, the congresswomen demonstrated her own implicit biases as described by Shaw.