As I sit here on Christmas Eve, I am like many of you.  I have many, many fond memories of this time.
I remember events in my childhood that put a smile on my face and I also remember parts of "the job" that brings me sadness this time of year.
Police Officers are one of those unique professions where you see the absolute worst of society and at the same time some of the best the world has to offer.  It is a mixed blessing that makes you the center of attention at parties and the focus of more reality television than any of us care to know about.
As much as some of us would like to block the negativity this time of year, it's impossible.  I speak from experience.
This year there is another thought on my mind.  It will be the first Christmas without my mother.  It has been tough.
I'm not some kid that grew up with a screwed up life and worse parents.  I was loved and given every opportunity in life to succeed.  My dad was a hard working cop that took care of his family which meant I spent much of my youth around my mom.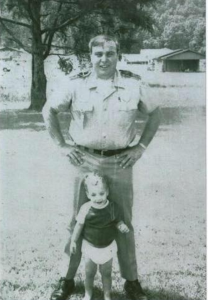 She was the rock and for that, I will forever be grateful.  To forget about my sadness, I've tried to work my way through this Christmas Season. When that didn't work, I spent hours in the gym trying to sweat my sorrows away.  None of it was ever going to work.
She's always there and that's the way it should be.
As I prepare to spend the first Christmas Eve and Christmas without my mom, I'm learning to appreciate her instead of mourning her passing.  I have a ways to go in that area but I'm working on it.
I also know that many of you are hurting this time of year.  You work in some of the most brutal and hostile conditions our law enforcement has ever been tasked with before.  Maybe you have personal pain similar to mine and maybe it's worse.
Whatever that is, please know that there are many praying and thinking about you.
My mom was the biggest supporter of law enforcement you would have ever seen.  "Blue Lives Matter" may be a popular saying today but she was doing that for 40 years.
If she was here today she would want you to know that you are cared for and supported and to do everything you can to make a difference.
She certainly did.
May God Bless you this Christmas Season and on behalf of Law Officer and my family, have a Merry Christmas.