FRANKLIN, Tenn. – A coach at a popular cheerleading training facility in Tennessee has been arrested and charged with rape involving an underage female, according to law enforcement authorities.
James Henry So, 27, was identified as the alleged perpetrator and taken into custody on Thursday. He currently faces multiple charges, which include one count of aggravated rape, four counts of statutory rape, three counts of rape, and two counts of sexual battery, Law&Crime reported, citing court documents.
Last week, a Williamson County grand jury returned a true bill indicting So on the aforementioned charges, all of which stem from an incident involving a 17-year-old girl earlier this year, the Franklin Police Department said in a press release.
"All of the charges were against one victim, a 17-year-old female, and occurred during a single encounter. It happened inside Premier Athletics, on Gothic Court," Franklin Police said in the news release. "An investigation was initiated after the incident was reported in March. Results from that investigation, including an exhaustive review of evidence in the case, were presented to a Williamson County Grand Jury, who returned the charges police arrested So for, last night."
Prosecutors allege in the indictment that the crimes occurred on or about Feb. 25, 2023. The indictment says the sexual battery charges against So stem from him "unlawfully, knowingly, and feloniously" engaging in "sexual contact with a minor child" at a time when So "knew or had reason to know at the time of said contact that the minor child did not consent."
Prosecutors also allege the criminal defendant did "sexually penetrate" the victim who "did not consent," and in doing so "did cause bodily injury to the minor child," according to the aggravated rape charge, reported Law&Crime.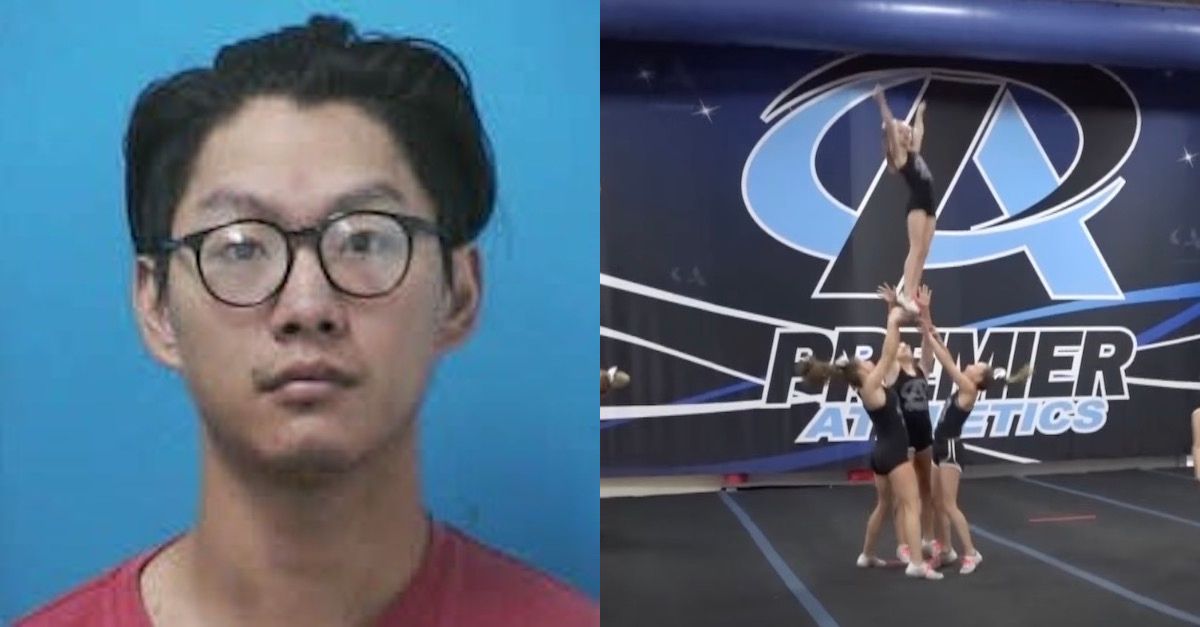 James Henry So (Franklin Police Department) Premiere Athletics (YouTube screenshot)
Kim Brubeck is the compliance administrator for Premiere Athletics Nashville. Brubeck said when the organization learned about the crime in March 2023, they immediately removed So from his coaching position and reported the allegations to the Franklin Police Department, WSMV-TV reported.
"Mr. So has not been in any of our facilities since his removal," Brubeck wrote in the statement. "Premier Athletics Nashville will continue to work with the Franklin Police Department and stands by all survivors."
So was booked at the Williamson County Jail on the listed charges. His bond was set at $300,000. He is scheduled for arraignment on July 26.
Police said that investigators handling the case "do not currently think there are other victims."
However, it's not the first time a person coaching at the facility engaged in criminal activity. In 2021, hidden cameras were found stashed throughout the women's restroom and changing areas. The digital cameras contained about 60 videos of "mostly minor" females in various stages of undress, WSMV reported.
Premiere Athletics said the person who placed the hidden cameras in the locker room was also a coach who had since been fired.
According to WKRN-TV, that former coach was Andrew Halford. He worked as a tumbling coach at Elite Cheerleading and Gymnastics in Carthage, as well as Premier Athletics in Franklin.
Halford pleaded guilty to multiple charges of aggravated sexual exploitation of a minor in connection with the cameras, and in October 2022 was sentenced to 24 years in prison.