Photo Courtesy: @Byroncocke/Twitter, A massive explosion was reported when the helicopter crashed.
---
Two people were killed after a Virginia State Police helicopter crashed just outside Charlottesville Saturday evening.
The helicopter, a Bell 407, was responding to the area of violent protests between white nationalists and black lives matter.
Corinne Geller, a Virignia State Police spokeswoman, says the pilot and a passenger were killed in the crash around 5 pm.
Multiple Helicopters were reported flying overhead in Charlottesville as Governor Terry McAuliffe declared a state of emergency after what is believed to be the largest gathering of white nationalists in a decade.
There have been no reports indicating that the pilot and observer were Troopers but President Trump indicated that was the case in the below tweet.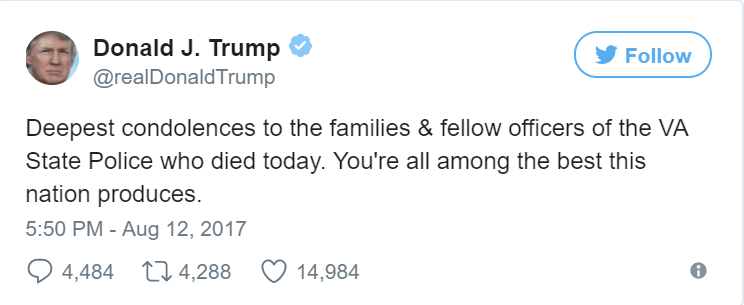 Whether the pilot and/or observer were sworn officers depends on the individual agency but most state police agencies place troopers in those positions.  One Virginia State Trooper linked this news via social media and commented that he was "devastated."
One thing is certain, the state of Virginia and their law enforcement need our support and prayers.