SAN ANTONIO – San Antonio police say they have caught a suspect who was wanted in connection with the shooting of a police officer who was investigating an attempted carjacking on the city's South Side.
Devin Seth Perez, 17, was caught on the Southeast Side at a convenience store near Steves Avenue and South New Braunfels Avenue.
Perez is one of two gunman accused of firing several rounds during an attempted carjacking Monday. The victim's vehicle was hit several times, yet the woman operating the automobile escaped without injury. However, an officer was struck in the foot during the gunfire, but is expected to make a full recovery.
Police Chief William McManus said the eight-year veteran was lucky to have only suffered a foot wound "because so many rounds were fired at him."
According to police, the Southwest Texas Fusion Center (SWTFC) coordinated with Repeat Offenders Unit detectives and set up surveillance.
Police said Perez was confronted in the parking lot of a gas station and apprehended with the help of EAGLE and SWAT teams, KSAT reported.
Perez was injured during his arrest and was taken to an area hospital for treatment before being interviewed, police said.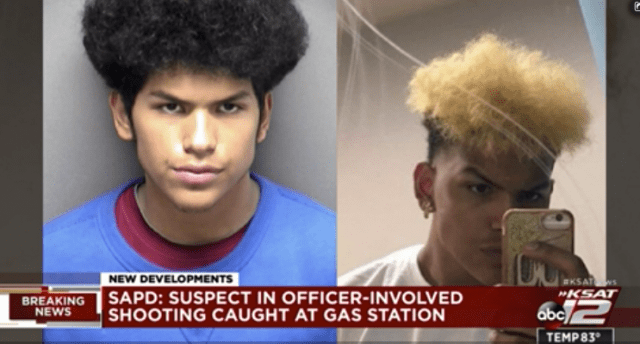 Perez is no stranger to police. He was arrested in July in connection with the shooting of a teenager. According to police, Perez was sitting inside a car in the 700 block of McCauley Boulevard with a 16-year-old boy along with three other people when a semiautomatic handgun Perez was handling went off.
Police said the bullet traveled through the driver seat, striking the victim once in the back.
The arrest affidavit said all three witnesses saw Perez get out of the car holding the handgun and run away.
Chief McManus is expected to speak about Perez's arrest Tuesday.