President Trump says on Truth Social that he is going to be arrested on Tuesday. The arrest would come as part of the Manhattan DA's long-standing probe into whether Trump broke laws by paying money to porn star Stormy Daniels, who spoke with prosecutors this week.
Trump wrote:
"Now illegal leaks from a corrupt & highly political Manhattan district attorneys office, which has allowed new records to be set in violent crime & whose leader is funded by George Soros, indicate that, with no crime being able to be proven & based on an old & fully debunked (by numerous other prosecutors!) fairytale, the far & away leading Republican candidate and former president of the United States of America, will be arrested on Tuesday of next week. Protest, take our nation back!"
Trump wrote, "Our nation is now Third World & dying. The American dream is dead! The radical left anarchists have stolen our presidential election, and with it, the heart of our our (sic) country. American patriots are being arrested & held in captivity like animals, while criminals & leftist thugs are allowed to roam the streets, killing & burning with no retribution. Millions are flooding through our open boarders (sic), many from prisons & mental institutions. Crime & inflation are destroying our very way of life…"
See Trump's posts here: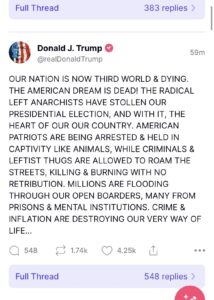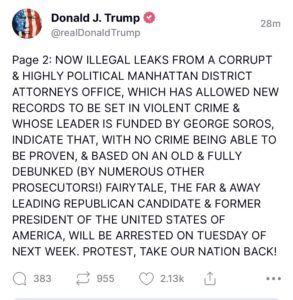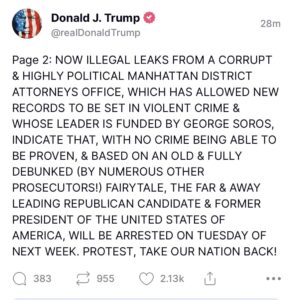 ---
This article originally appeared at Wisconsin Right Now.