One of the most difficult tasks for plain clothes or off duty officers in a violent incident is being properly identified by other first responding officers. The process of "linking up" with police from different agencies or even your own is dangerous, especially when shots are fired and you have a pistol or rifle in your hands. If you are dressed in plain clothes on or off duty, with only a badge on the belt or hung on the neck, misidentification as a bad guy is very possible. When people are pointing at the man or women with a gun, and they are pointing at you, your life is at risk.
In 2011 and 2012, the Kansas City (MO) Police Department did a test of officers on the range who were faced with targets representing threats coming at them in low light or in full light. The identification was a badge in a holder on the belt or hung around the neck. The results are reported in this study but many of the good guy officer targets were shot. Officers were so focused on the threat that there was little if any possibility they would see the belt level identification and the neck ID while somewhat more effective failed to be recognized too often. What about officers approaching from the back of the plain clothes officer? They will only see the man with a gun. When the command is shouted," drop the gun", will the plain clothes officer do so? Or will he turn around to see where the police are and get shot in the process.
Police officer Mike Lessman saw the need for a means to make the identification and came up with an ingenious solution. He invented and produced a safety banner that is drawn from a belt pouch and pulled over the head and across the body. It is like a Miss America sash only it is for police officers needing life protecting, immediate recognition. As his web site says:  The DSM (Don't Shoot Me) banner (patent pending) was designed by a SWAT Sergeant with more than 20 years of law enforcement experience.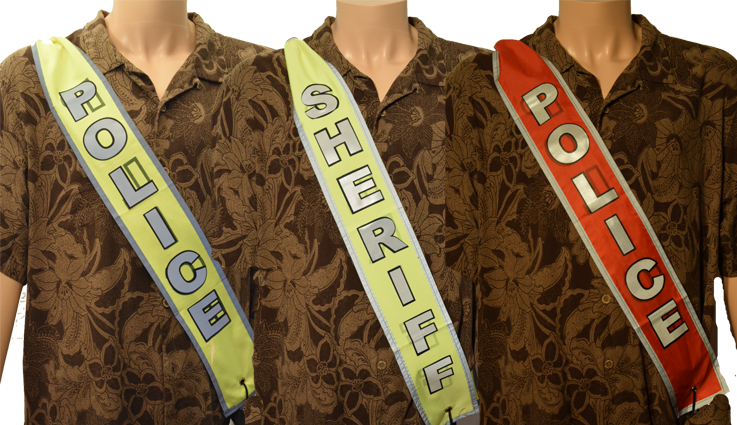 At this year's SHOT Show I spoke with Mike after he finished working with a group of federal investigators from overseas. Mike told me he has a lot of interest from across the world. The problem is universal to public safety responders. I also asked Mike to show me his new rifle sling identification sleeve. This is another clever idea that clearly shows what can be seen by other police officers. If you move towards the sound of an active shooter in plain clothes or even in uniform, this is another safety identifier that offers protection from blue on blue fire.
I have been carrying both items daily and testing them out in training and on the range. The DSM banner is carried in a pouch like a cell phone. There is a grab point and it deploys quickly and efficiently. It is made in reflective low light and dayglow colors, with a variety of named positions including, Police, Sheriff, and more.
Mike Lessman states that they "have recently shown that a new officer safety identifier the DSM Safety Banner /Critical Incident Identification Systems will surpass both badge positions in stopping blue on blue incidents. At a recent federal agency night shoot with multiple shoot/no-shoot targets, the only no-shoot target that DID NOT get shot…..Not Once….was a target rigged up with our safety banner."
My experience, training tells me that without a doubt, law enforcement needs to carry these items.
Mike can be contacted at: [email protected]. You can visit DSM Safety here.