MEMPHIS, Tenn. – The Memphis Police Department announced Friday that five officers were fired. Each one was involved in a traffic stop and the subsequent "excessive force" death of Tyre Nichols, according to the agency.
The terminated officers were identified as Tadarrius Bean, Demetrius Haley, Emmitt Martin III, Desmond Mills Jr., and Justin Smith. They are accused of using unlawful force against Nichols, who reportedly fought and fled from officers after he was stopped for reckless driving on Jan 7, reported ABC 24 in Memphis.
The Memphis Police Department initially released the following statement:
"On Jan. 7, 2023, at approximately 8:30 p.m. officers in the area of Raines Road and Ross Road attempted to make a traffic stop for reckless driving. As officers approached the driver of the vehicle, a confrontation occurred, and the suspect fled the scene on foot. Officers pursued the suspect and again attempted to take the suspect into custody. While attempting to take the suspect into custody, another confrontation occurred; however, the suspect was ultimately apprehended. Afterward, the suspect complained of having a shortness of breath, at which time an ambulance was called to the scene. The suspect was transported to St. Francis Hospital in critical condition. 
"Due to the suspect's condition, the District Attorney General's Office was contacted, and it was determined that the Tennessee Bureau of Investigation would handle this investigation. The officers involved will be routinely relieved of duty pending the outcome of this investigation. All additional information regarding this incident will be provided by TBI."
— Memphis Police Dept (@MEM_PoliceDept) January 8, 2023
Nichols died three days later and the officers were ultimately terminated Jan. 20 after a disciplinary hearing was held. The five officers had two to five years of experience when they were fired.
Officer Tadarrius Bean, with MPD since 2020.
Officer Demetrius Haley, with MPD since 2020.
Officer Emmitt Martin III, with MPD since 2018.
Officer Desmond Mills Jr., with MPD since 2017.
Officer Justin Smith, with MPD since 2018.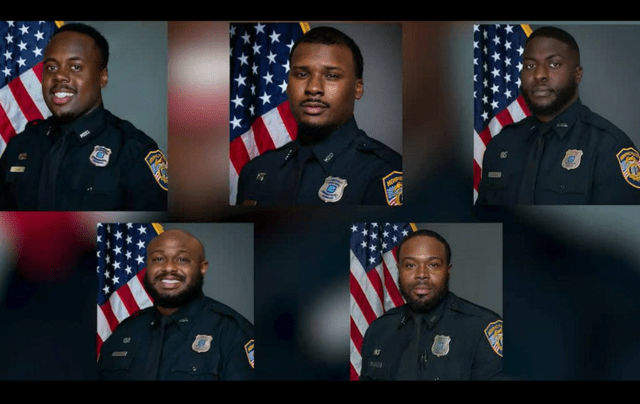 In a Friday statement, MPD said the actions of these officers were "egregious" in nature:
"The Memphis Police Department has concluded its administrative investigation into the tragic death of Mr. Tyre Nichols. After a thorough review of the circumstances surrounding this incident, we have determined that five (5) MPD officers violated multiple department policies, including excessive use of force, duty to intervene, and duty to render aid.
"Earlier today, each officer charged was terminated from the Memphis Police Department. The Memphis Police Department is committed to protecting and defending the rights of every citizen in our city. The egregious nature of this incident is not a reflection of the good work that our officers perform, with integrity, ever day."
As a result of Nichols' death, the U.S. Department of Justice is investigating in addition to the Tennessee Bureau of Investigation.
Attorneys Ben Crump and Antonio Romanucci are representing Nichols family. They are calling for the release of body camera footage, but are satisfied with the officers terminations, Black Enterprise reported. 
"They must also be held accountable for robbing this man of his life and his son of a father," Crump and Romanucci said.
Tyre Nichols (Obituary via dignitymemorial.comScreenshot)
According to ABC 24, Memphis Police Chief Cerelyn "CJ" Davis condemned the officers actions and Mayor Jim Strickland is preparing to meet with Crump this week.