INDIAN RIVER COUNTY, Fla. — A suspect in a lengthy vehicle pursuit is accused of throwing a baby at law enforcement personnel as he tried to make his escape. The dramatic incident occurred in Florida where John Henry James III, 32, now faces multiple felony charges from the May 26 series of crimes, according to the Indian River County Sheriff's Office.
Dash cam and aerial helicopter footage released Friday shows key parts of the chase, which began on State Road 60 in Vero Beach, Fla. when deputies attempted a traffic stop for an alleged failure to maintain a lane, according to authorities.
The pursuit continued for about 40 minutes despite multiple attempts to disable the suspect vehicle, Law&Crime reported.
"He ran over another set of stop-sticks, but they failed to disable the vehicle," the department said via Facebook.
In the video, the car reportedly driven by James can be seen blowing through stop signs, speeding down residential streets and darting in and out of traffic in Gifford, Fla.
Eventually, a call was made to give the appearance of standing down so the department's HAWK helicopter could follow the driver and keep tabs, police said.
James made his way to the Taylor Pointe Apartments "where he was boxed in," the department noted.
"As he bailed out of his car, he grabbed the 2-month-old boy who had been in the car with him and threw the child in the direction of a deputy," the law enforcement agency said. "That deputy successfully caught the child and was able to relocate the baby to safety."
But James continued in his attempt to evade deputies.
"After James bailed out of his car and threw the infant, he fled on foot through the trees and between buildings," the Sheriff's Office said. "Our deputies pursued on foot and were able to take James to the ground, where he continued to resist. He kicked and bit at deputies and struggled when being loaded into the back of a deputy's cruiser. A large group of residents gathered around the deputies, forcing us to call for backup to assist in crowd control."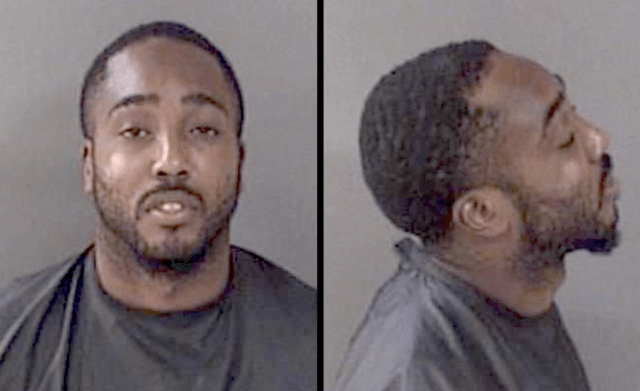 After his arrest, James complained of breathing problems, so he was transported to a nearby fire station and then to the Cleveland Clinic Indian River Medical Center for treatment, where he remained until June 1, before getting booked in jail, according to Law&Crime.
"You can't throw a baby at us and expect us to treat you with kid gloves," Sheriff Eric Flowers said in a Facebook post on Friday.
James was charged with two counts of aggravated child abuse, one count each of aggravated battery on an officer/firefighter/EMT, battery on an an officer/firefighter/EMT, reckless driving, and resisting arrest with violence. He is currently being held in the Indian River County Jail without bond.