Some of the most poignant moments during the career of a law enforcement professional occur while attending a memorial service for an officer who suffers a line-of-duty death. These events are certainly a time when cops reflect on their own career choices and help them reevaluate officer safety considerations.
In a peculiar sort of way, I was never more appreciative to be part of the profession then when I attended the funeral for a fallen officer. There were no tribes or divisions among the massive sea of uniforms, but simply one category: that of a cop!
As I reflected on the latest fallen officer, my mind created a fictitious conversation between a beat cop and a little girl who was trying to understand the purpose of a black mourning band.
The tender exchange between the two is in the form of a poem. Any similarities in the tale to actual circumstances is purely coincidental. It is simply inspired by a career in law enforcement — which included attending too many funerals for fallen officers — while trying to explain our difficult profession, and its consequences, to inquisitive children.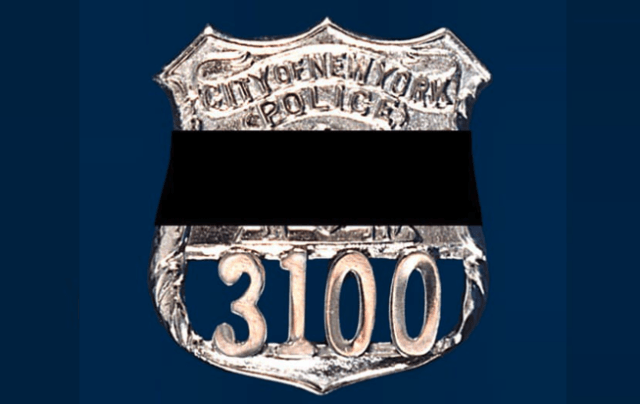 It is my hope that "Little Black Band" will connect with police officers and their families if they find themselves dealing with similar circumstances following the death of a loved one who carried the burden of being a sheepdog!
 

Little Black Band

Pigtails and curls skipped over my way.

A sweet little smile, she asked for my name.

"Officer James, may I ask yours?"

"Of course you may, it's kinda the same."

"My name is Jamie,

and I have a question to explore.

There's a black band on your badge,

what is it for?"

The elastic black band

wrapped around my shield,

is a story of sorrow,

an officer laying in a field.

But how do I tell,

the sweet little girl,

a tale of such evil,

caused by a man named Earl.

It was two nights before,

when my partner was slain.

He bled out during a gunfight,

on bloody Savage Lane.

"The black band on my badge," I explained,

represents another cop,

who died on the path,

filled with danger to stop."

"While protecting other people

from a violent man's gun,

this really bad person

took the officer's life for fun."

"Oh dear,"Jamie expressed,

with horror and shock.

"That sounds like my neighbor,

Mr. Officer Spurlock."

"I go to school with his kids,

Noah and Chad.

They're preparing for a funeral,

to bury their dad."

"I'm so sorry your job

is grueling and tough,"

said the expressive young lady,

who knew things could get rough.

"I cried the night

my mama told me the same story,

of Noah's father

who died without glory."

"All of that will change," I said,

"when we honor their father."

"We'll tell of his courage,

hand a flag to their mother."

Before Jamie left,

she needed to know,

why I work in the streets,

a profession I love so.

"I do this job,

because of people like you.

I will always come running,

when you need me to."

"So when you see a black band,

you know we've lost a member.

It happens each month,

from January through December."

"Thank you for taking time,"Jamie replied,

"to talk to me."

"I'm gonna tell my friends about the band,

and all that it means."

As Jamie departed

the skip was absent from her gait,

but she had a new understanding,

of how all police should rate.

The burden is heavy,

yet we'll carry on,

since being a sheepdog

is a calling so strong!

–Jim McNeff
May God watch over sheepdogs everywhere, and help families, blood and blue, who personally encounter the loss of a loved one during their call of duty!
---
MORE