INDIANAPOLIS – Marcus Garvin was free on bail and wearing a GPS ankle bracelet when prosecutors allege that he stabbed his girlfriend to death on July 24. Garvin was free because of a non-profit called The Bail Project, a national non-profit organization that pays the bails for suspected criminals.
While The Bail Project is backed by some high profile donors including Twitter CEO Jack Dorsey, according to the Central Indiana Community Foundation the City of Indianapolis gave the non-profit a total of $150,000 in 2019 through the city's crime-prevention grant programs. The group has paid the bails for 878 Marion County defendants since November 2018 according to WRTV.
"I don't think taxpayers are going to be real hip to their money going to something like that," Indianapolis Fraternal Order of Police President Rick Snyder told WRTV on Friday.
Angela Plank, public affairs manager for the Indianapolis City-County Council, said the death "is a tragedy grieved by every member of this Council and our entire community…The Council remains deeply committed to working with all partners to break the cycle of violence and address its root causes in Indianapolis."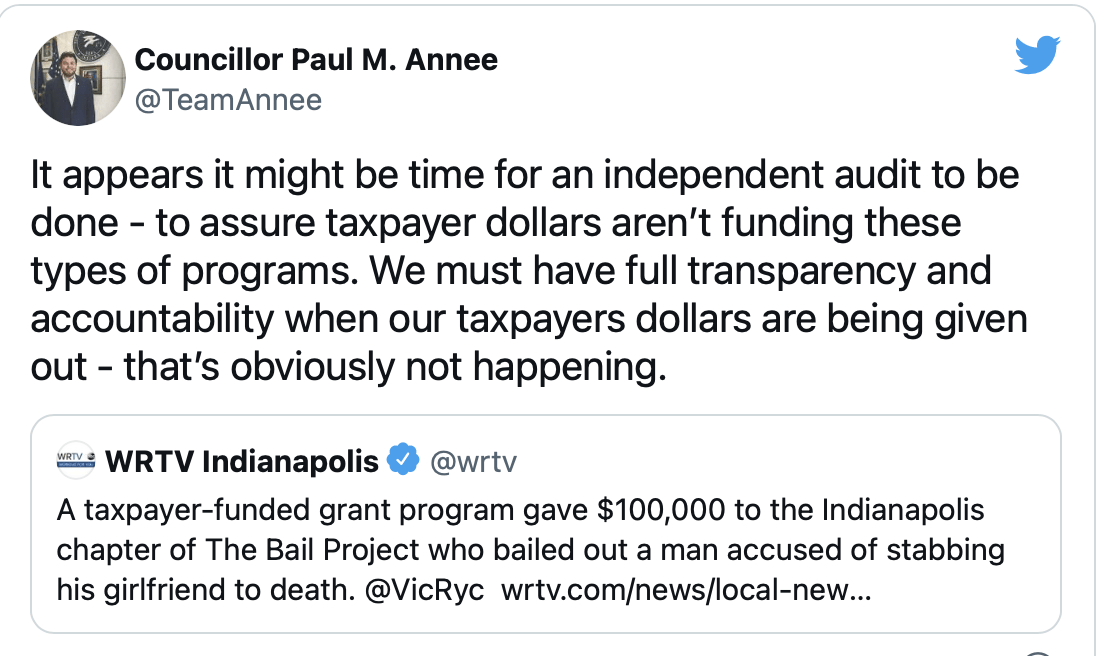 City leaders approved a measure that gave $2.2 million to fund the crime-fighting grants in 2021. The foundation administers the money and decides what groups get the money. The Bail Project was among 26 groups awarded grants in December.
The Bail Project's National Director of Operations David Gaspar told WRTV that none of the donations went into a revolving bail program.
Garvin, who was in jail for stabbing a customer as he was working as a convenient store clerk December 28th. Surveillance video showed Garvin follow the customer outside and stab the man with a large knife, court documents said.
Christie Holt's family is heartbroken and furious after Christie's boyfriend allegedly murdered her while wearing a GPS monitor. Marcus Garvin was on pre-trial release for allegedly stabbing a customer at a gas station in December 2020. pic.twitter.com/oDTjsbqn9W

— Courtney Crown (@CrownJournalist) August 4, 2021
"Damn, that was satisfying," Garvin said when he returned to his cash register and dropped the knife on the counter, Indianapolis Metropolitan Police Department Detective Mark Howard wrote in an affidavit.
Garvin's bond was initially set at $30,000 before Marion Superior Court Judge Shatrese Flowers reduced Garvin's bond to $1,500 and ordered him on GPS monitoring. That bond was paid for by The Bail Project.
Garvin allegedly stabbed 30-year-old Christie Holt to death on July 24th and tried to dismember her body in the bathtub. On July 30, prosecutors say a witness saw Garvin at 4:48 a.m. dragging Holt's body wrapped in sheets and a comforter to a wooded area near the hotel.
A doctor performing the autopsy found 51 stab wounds on Holt's body. Her lower left leg was nearly severed, the affidavit said.
Garvin told detectives that Holt had been seeing another man, the affidavit said. Garvin said he wanted to move out, but couldn't because he had no place else to live and his GPS monitor would soon run out of battery power.
"If he wasn't on the band (the GPS), it wouldn't even have been a problem. He would have just left," Detective Howard wrote in the affidavit supporting the murder charge.
Holt's mother, Lisa Fox tells Fox 59 that "If they would have left him in there, he wouldn't have killed her, he wouldn't have had a chance because he'd be locked up….So, I blame a lot on the system right now. They let Christie down."