LEWISBURG, W.V. – A convicted child rapist who was sentenced to life in an Arkansas prison in 2013 and escaped while on a work detail last summer has been captured after being on the lam for a year, authorities announced on Tuesday.
The fugitive, Samuel Hartman, 39, was an inmate at the East Arkansas Regional Unit. With the assistance of family members who reportedly fired at correctional officers, he escaped from a field near the detention facility in August 2022, the Arkansas Department of Corrections said, according to Fox News Digital.
Law enforcement authorities found Hartman and his alleged accomplices holed up at a Quality Inn in Lewisburg, West Virginia. In addition to taking Hartman into custody, law enforcement authorities also arrested his wife, Misty Hartman, 39; his mother, Linda Annette White, 61; and White's boyfriend, Rodney Trent, 52, who hails from West Virginia.
Misty Hartman and White reportedly facilitated Hartman's escape by using a pickup truck, a firearm, and "jet skis."
The women are accused of approaching the prison work detail in the truck on Aug. 12, 2022, exiting the vehicle and firing rounds toward correctional officers while Hartman made a dash for the pickup, according to the U.S. Marshals Service (USMS).
The escapee and his accomplices fled in the truck, and correctional officers pursued them until they reached the Mississippi River, where the trio hopped on two pre-staged jet skis and completed the getaway, USMS said in a press release.
Arkansas and Mississippi officers involved in the manhunt later located the abandoned jet skis on the Mississippi side of the river.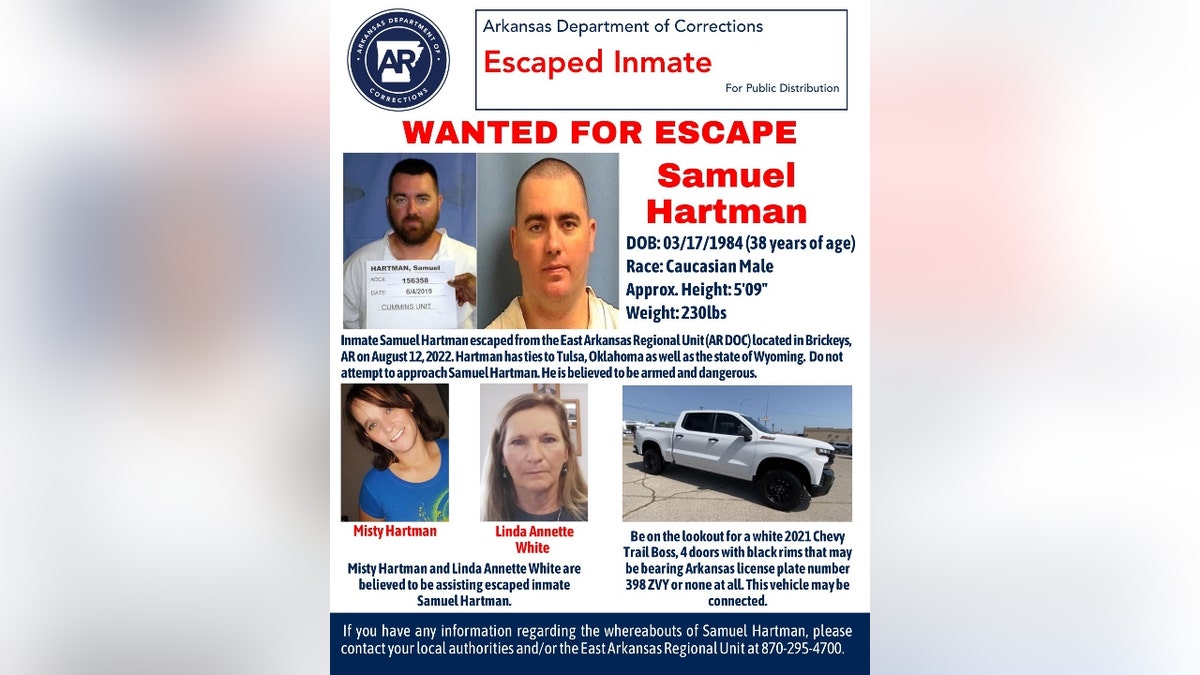 Investigators with the USMS Cold and Complex Case Unit teamed up with investigators from the Eastern District of Arkansas in March of this year. Using investigative resources, they learned that White had ties to West Virginia through her boyfriend, Trent.
With aid from the West Virginia State Police, Lewisburg Police Department and Greenbrier County Sheriff's Office, fugitive task force officers were eventually able to locate and arrest all four individuals.
Trent is now facing charges related to harboring a sex offender and helping the three fugitives evade authorities, Fox reported.
Gov. Sarah Huckabee Sanders, of Arkansas, said Tuesday's capture in West Virginia was "the culmination of a year of outstanding, dedicated work by our heroic law enforcement officers."
"Now that they have brought this dangerous fugitive to justice, all Arkansans can sleep safer at night," she said in a statement.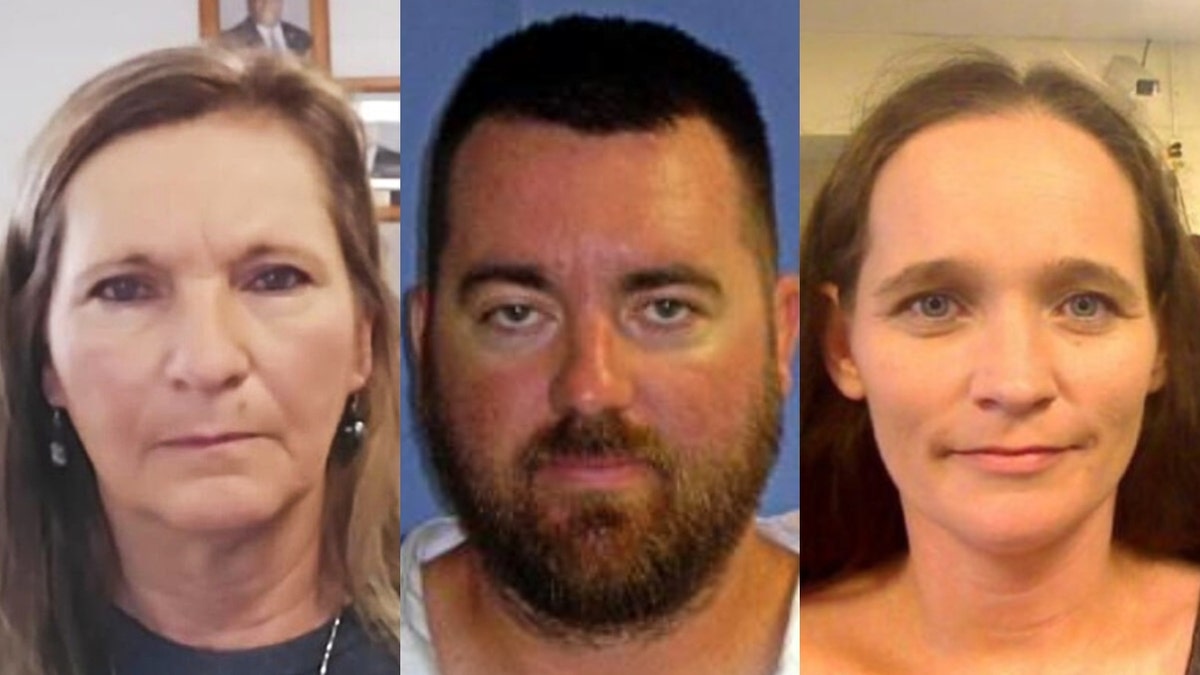 Prosecutors obtained a phone call recording between Samuel Hartman and White in which the later convicted child rapist was heard telling his mother that he touched the minor victim by "accident," and that the touching was "innocent," court documents state.
"I'd just keep denying everything to the end. That's what I would do, regardless," White told her son in a recorded phone call, according to court records.
Furthermore, the woman told her son that "kids, they tell all kinds of s— all the time."
"I mean, you know damn well you ain't done nothing like that," she said in the recorded call, according to court documents.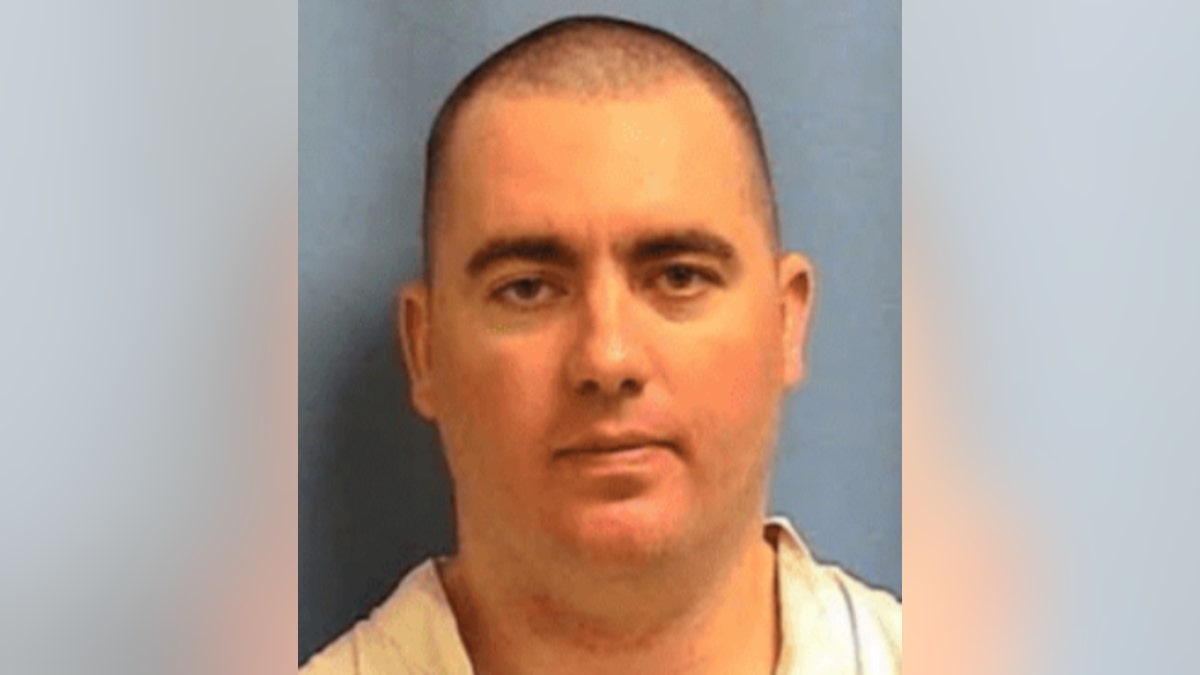 Prior to his prison escape, Hartman had a lengthy list of disciplinary violations that occurred between 2017 and 2020. The violations included possession or manufacturing of contraband items on multiple occasions, assault and battery, as well as sexual activity.
Michael Baylous, U.S. Marshal for the Southern District of West Virginia, expressed satisfaction in the capture of the fugitives and the fine work done by those involved.
"In my nearly 30 years of law enforcement, I cannot recall a task force that has the level of dedication to accomplishing the mission and making our communities safer than that of CUFFED (Cops United Felony Fugitive Enforcement Division Task Force)," said Baylous. "The apprehension of these dangerous fugitives demonstrates the close and outstanding relationship that CUFFED enjoys with our local and state partners, other USMS Districts, and the USMS Domestic Investigations Branch."
Arkansas Department of Corrections Secretary Joe Profiri said, "We appreciate the support and assistance from all agencies involved, the Arkansas Governor's office, and the State of West Virginia in bringing this case to a successful conclusion."