BEAR, Del. — A Delaware man suspected of fatally shooting an elderly Maryland couple as they were visiting their son's grave earlier this month died from police gunfire during a shootout about two hours after the crime, authorities have confirmed.
About four hours after the shootout, police found the body of Sheldon Francis, 29, of Middletown, in a wooded area near Delaware Veterans Memorial Cemetery in Bear, the site where authorities say Francis had shot Paul Marino, 86, and Lidia Marino, 85, of Elkton, Md., in a seemingly random attack, The Newark Post of Delaware reported.
Responding officers spotted Francis running into the wooded area less than an hour after the murders, FOX 45 of Baltimore reported.
The shootout between Francis and police left an armored Delaware State Police "BearCat" vehicle covered with damage from bullets, according to the Post.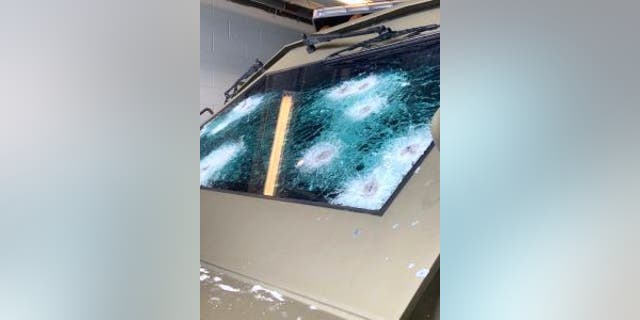 The man who killed the twin brothers' parents reportedly possessed a scoped rifle at the time but, according to information that DSP investigators provided the family, Francis apparently shot them with a handgun at relatively close range.
"He came up behind them, pulled out a handgun and did his thing. He shot our dad in the back of the head and then he shot our mom," Ray outlined. "We don't know if he shot our mom first in front of our dad or if he shot our dad first in front of our mom. We don't even know if they saw him."
With the investigation continuing, it appears that Francis randomly opened fire on the Marino couple.
"As this investigation remains ongoing, there has been no motive determined at this time or evidence indicating Francis had any connection to the Marinos," a DSP spokesman said.
The couple had been married for 61 years, the Cecil Whig of Maryland reported.
"My parents were in their 80s, but they were very healthy and active. They had five or 10 more years of good life left, I'm sure," Ray said. "I thought they would die from natural causes someday – not be executed by a stranger in a cemetery."
The day after the shootings, Paul Jr. visited the cemetery.
"I just wanted to see where my parents got shot," he explained, noting that a groundskeeper approached him, wanting to know why he was there. "When I told him my parents were the people who got shot, the groundskeeper said he knew my parents, that they talked to him every time they saw him at the cemetery. He was very upset by what happened."
No police or bystanders were injured during the shootout. Responding officers were placed on administrative leave as the investigation continues.
———
Editor's note:  Follow Law Officer and K9 Officer on Facebook. Go to your news feed preferences under settings, then select that you want to see more Law Officer and K9 Officer posts.