PORTLAND, Ore. – An anonymous person with an Antifa-linked Twitter account has taken credit for starting a fire at a Portland Bank of America branch on Saturday. The individual said the arson was in retaliation for domestic terrorism charges brought against five radical militants that were a part of a violent occupation of land in south Atlanta that is purposed for a  $90 million police training center, the Post Millennial reported.
"Last night I broke into a Bank of America in Portland, Oregon and started a large fire. According to news reports, the fire grew quickly and took firefighters more than an hour to extinguish," read the statement posted to Abolition Media.
A far-left account on Twitter has posted a claim of responsibility for setting a Portland @BankofAmerica on fire. The attacker says it was done as retribution for the @GBI_GA domestic terrorism charges against militants arrested at the #Antifa autonomous zone in Atlanta. pic.twitter.com/WEOCkG7Stc

— Andy Ngô 🏳️‍🌈 (@MrAndyNgo) January 2, 2023
"I attack for revenge against capital for the hell it creates, to break the illusion of police control that usually protects it, and just because I can," the post continued. "Bank of America funds the Atlanta Police Foundation and a thousand other projects of control. Earlier that day, the six friends in Atlanta charged with 'domestic terrorism' were released from jail. May this fire bring them some warmth in winter."
"Long live anarchy!" the post concluded.
Photos from the arson attack being claimed by an Antifa-linked account @abol_media on Twitter: https://t.co/XvzsZqFGOV

— Andy Ngô 🏳️‍🌈 (@MrAndyNgo) January 2, 2023
The post said it's from the website "Scenes from the Atlanta Forest," and features anonymous submissions regarding militant groups violently defending the land in Georgia where the Atlanta Police Department has plans to construct the training facility.
Firefighters responded to the Hawthorne Boulevard Bank of America near SE 37th Avenue and SE Hawthorne Boulevard in Portland just before 3:15 am on December 31, 2022, regarding a structure fire. It took fire personnel until about 4:30 a.m. to extinguish the flames, reported KGW8.
The Portland Fire Investigations Unit is looking into the source of the arson, according to law enforcement authorities.
The Georgia Bureau of Investigation (GBI) launched a raid Dec. 13 at the Autonomous Zone set up at the future site of the Atlanta Public Safety Training Center, Law Officer reported at the time.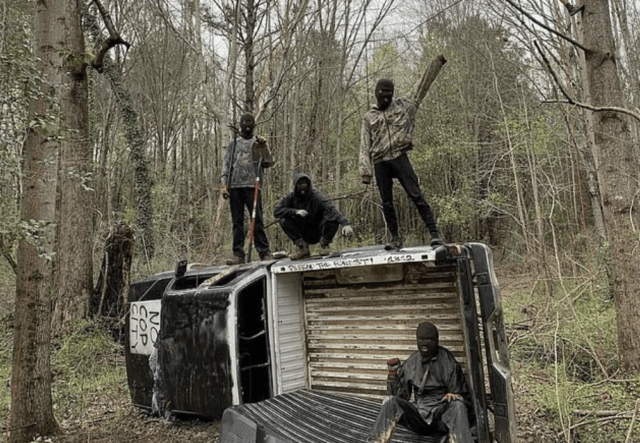 Radical left extremists from across the country traveled to the woods that they called "cop city" in their attempts to hinder and halt construction of the training facility.
Law enforcement officers were peppered with rocks and bottles during the December raid. GBI recovered explosive devices and gasoline.
Five individuals identified as Serena Abby Hertel, 25, Leonard Voiselle, 20, Nicholas Dean Olson, 25, Francis M. Carroll, 22, and Arieon Robinson, 21, were all arrested and face several charges, including domestic terrorism.