CARROLL, Iowa – Recently released video from the Carroll Police Department in Iowa shows an officer clinging to the hood of a car as the driver attempts to flee during an encounter two years ago. The driver was sentenced to five years in prison in connection with the March 5, 2021, incident.
Officer Patrick McCarty notified a passenger in the vehicle, identified as Dennis Guider Jr., that there was a warrant for his arrest out of Illinois, KCCI-TV in Des Moines reported.
"I hate to be the one to tell you this, but it sounds like you've got a warrant out of Illinois," McCarty said, in the bodycam video.
He calmly asked Guider to step out of the vehicle, but instead the driver exited and Guider slid behind the wheel. He then started the car and it began to proceed forward, according to the video obtained by the local station.
The officer drew his service weapon, stepped in front of the car, and continued issuing commands trying to gain compliance. However, Guider remained non-compliant. As the vehicle kept moving forward, McCarty jumped on the hood while other officers continued to arrive at the scene, according to Fox News.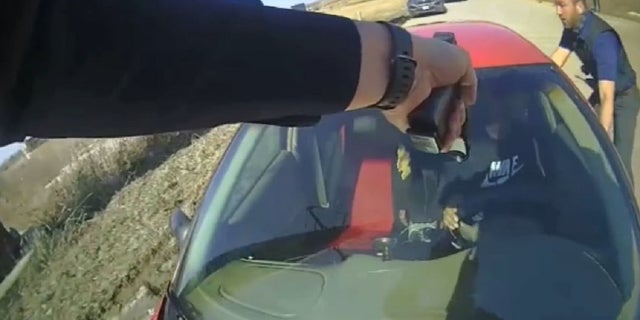 "Stop the f—ing car!" the officer repeatedly hollers at the suspect behind the wheel as another police unit engages the fleeing automobile in a pursuit. The vehicle reached a speed of 50 mph with the officer clinging on top, the New York Post reported.
Dashcam footage from another police unit shows McCarty struggling to rearrange himself, gripping onto the car's roof as Guider drove down a dirt road.
The suspect vehicle hit a ditch and sent McCarty flying, the video shows. The officer hit the ground and broke his back, according to KCCI-TV.
Guider was eventually taken into custody and pleaded guilty to serious injury by a vehicle.
WATCH VIDEO
Despite being non-compliant before the McCarty drew his service weapon, Guider claimed he feared for his life once the gun was drawn.
"I feared for my life after the officer pull(ed) out his gun and jump(ed) on the hood of my car," Guider wrote in a letter to the Carroll County clerk of court in February, the Des Moines Register reported.
During sentencing, Guider's attorney asked the judge for leniency, arguing McCarty was never trained to step in front of a moving car.
On May 11, Guider was sentenced up to five years in prison, which will be served separately from his sentence in Illinois.
The Carroll Police Department did not issue a statement to accompany the released video.