HOUSTON, Texas – Two Houston police officers suffered stab wounds to the face before they fatally shot their attacker in the southwest area of the city Saturday morning, officials said.
Investigators with the Houston Police Department said the fatal encounter took place about 9:10 a.m. in the 13300 block of Agarita Lane near Milfoil Lane during a welfare check. A daughter, who was not at the residence, called HPD and asked for officers to check on the welfare of her parents since they were afraid to summon help regarding their 26-year-old son, ABC13 reported.
Shortly after arrival at the home, officers called for additional units while trying to talk to the man and de-escalate the situation. Despite their efforts, the suspect pulled out a knife and stabbed two officers. One of the officers then opened fire on the suspect. The attacker was pronounced dead at the scene, according to police.
HPD commanders & PIO are en route to an officer-involved shooting in the 13300 block of Agarita Lane.

Prelim info: suspect stabbed 2 officers & at least 1 officer discharged their weapon striking the suspect.

Officers were transported in stable conditions. More info at scene. pic.twitter.com/ClYD5E8oO5

— Houston Police (@houstonpolice) February 18, 2023
One officer suffered a stab wound to the jaw, while the other sustained a stab wound to the chin. They were 3- and 15-year veterans, according to Chief Troy Finner of the Houston Police Department.
Both officers were transported to the Texas Medical Center at Memorial Hermann and expected to survive their injuries. One has subsequently been released, according to ABC13. A medical update on the other officer was unclear.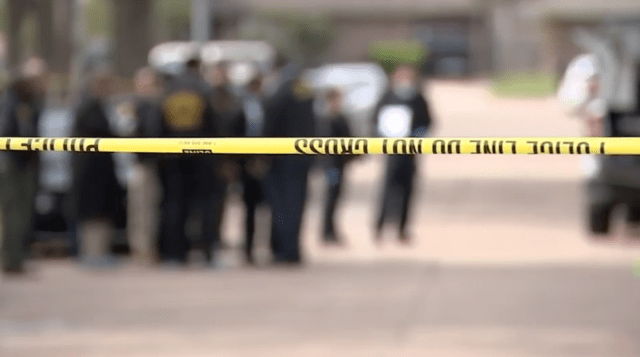 Police said they were familiar with the address due to similar calls prior to Saturday's encounter. Finner also noted the suspect had a history of mental illness.
Per department policy, both police officers will be placed on administrative leave.