By Steve Pomper
Once again, a police officer investigated for wrongdoing (this one truly ridiculous) has been cleared. It happened in Seattle, which, having worked a career there, surprises me—zero. Full disclosure, the cop we'll be discussing, Sgt. Pamela St. John, is a friend. She and I worked the same watch in the same precinct for many years.
Even if we didn't like each other, no one could deny the department had warped priorities regarding Sgt. St. John's situation. In June, The Seattle Times reported on the sergeant sending a memo to Chief Adrian Diaz about "her staffing crisis in stark terms." The memo was apparently leaked.
According to The Times, "In September, after a national search, [Mayor Bruce] Harrell chose Diaz as permanent police chief. The Seattle City Council will vote on his appointment during the Jan. 3 council meeting." I doubt many quality candidates were beating a path to Seattle for the job. And, a positive for Harrell, Diaz plays well with mayors.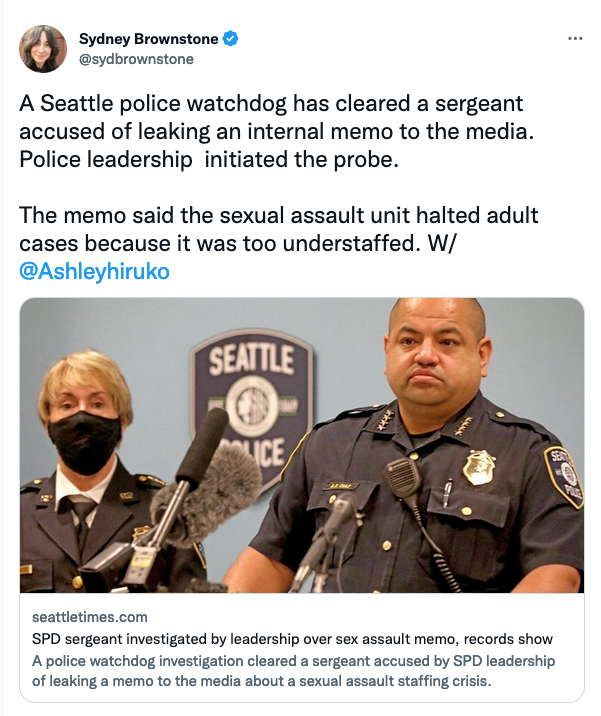 "The Seattle Police Department," The Times also reported, "has lost a significant number of officers and faced increased public scrutiny after the 2020 racial justice protests. Leak investigations rarely result in finding the sources of the leaked information but do stoke fear among employees." And there you have it!
I'm throwing the red challenge flag here and reviewing that last quote. It's not surprising that The Times would betray its radical leftist bias, but after review, the words on the page are overturned. The ruling on the field, "2020 racial justice protests" is overturned to "2020 BLM/Antifa riots." Please, put 11 seconds back on the clock.
Sgt. St. John wrote that she could not "assign adult sexual assault cases" because "the unit just had too few detectives."
Assistant Chief Deanna Nollette, whom I also worked with and like, in an interview with KUOW, "dismissed St. John's portrayal of what was happening in her unit as 'not accurate' and a 'gross oversimplification." This ignores St. John's accurate assessment of what she was dealing with as the unit's supervisor. Who would know better? She was the one assigning the cases.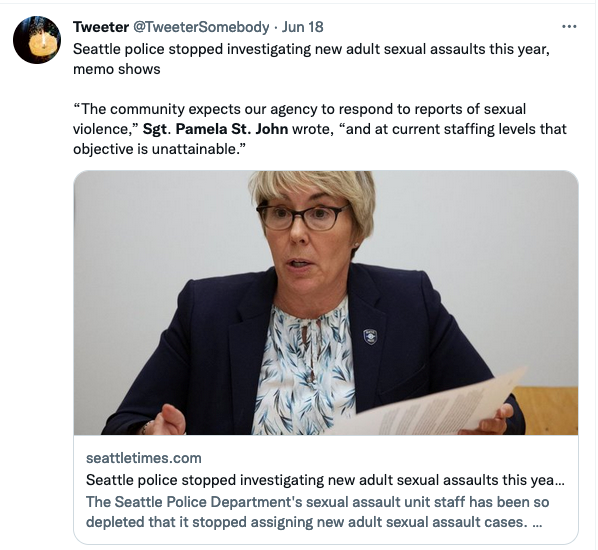 The Times also noted other politicians were skeptical the department staffing shortages were to blame for the sexual assault unit being understaffed. What? As interpreted by The Times, one state senator proclaimed, "the sexual assault unit's problems were about priorities, not adequate staffing." So, not investigating lower priority sex crimes because of inadequate staffing is okay, then.
The radical left likes to talk about "systemic" this and that. Well, police staffing problems are systemic. When there are not enough patrol officers to respond immediately to any preliminary investigation, the case begins at a deficit regarding evidence, witnesses, and apprehending suspects. And that deficiency is felt in the detective units.
Also, when patrol is depleted, meaning they don't have enough officers to respond to 911 calls, which is any law enforcement agency's priority, patrol staffing has to come from somewhere. That's usually from specialty and follow-up (detective) units.
So, how did the command staff handle someone leaking Sgt. St. John's memo? By investigating the sergeant for allegedly doing it. Reportedly, Nollette initiated the investigation the day after KUOW released the memo leak.
The problem is, in clearing Sgt. St. John, investigators never determined the leaker's identity because there were too many people who could have leaked the memo.
Executive director of the Sexual Violence Law Center in Seattle, Riddhi Mukhopadhyay, noted, "It's unfortunate that it was instead a basis to launch an investigation into the author of the memo." She also pointed out that "it was 'shameful and disappointing' the department would devote resources to the leak investigation while it claimed it had too few people to investigate sexual assaults."
That's a poignant observation.
Mukhopadhyay shouldn't be surprised. I knew we (cops) didn't stand a chance with the city, especially after, many years ago, they authorized investigating third-party anonymous complaints against police officers. This madness is not nearly new to Seattle. It's just worse, which no one ever thinks it can get, but the city never disappoints in going lower with their treatment of the city's police officers.
Good for Sgt. Pamela St. John for surviving yet another department investigation of an officer who dared to tell the truth.
---
This article originally appeared at the National Police Association.