CHICAGO – Retired Los Angeles Police Chief Charlie Beck prepared to take the reins of the Chicago Police Department on Friday with a promise to win support from a demoralized rank and file and continue rebuilding shattered trust between residents and police.
"That's my No. 1 goal: to bring this city together because they trust their cops. … That's a big lift in any city — not just Chicago," said Beck, 66, with retiring Supt. Eddie Johnson at his side.
"This department can be the change. … This department can be the glue that brings this city together and not the powder that tears it apart," he said, pledging he didn't take the post "to fill a resume. This is my calling."
He said trust is paramount in policing. "That is the only tool in your tray: How much you're trusted, how much your veracity is valued, what you can do to make the community safer."
Chicago police officers have been working without a contract for 2 1/2 years, Chicago Sun-Times reported.
They've been at odds with Mayor Lori Lightfoot since her days as chairwoman of the Task Force on Police Accountability, which released a scathing indictment of the Chicago Police Department that laid the groundwork for the U.S. Justice Department to do the same, according to the report.
---
---
With that as background, how does Beck win over rank-and-file officers that was so integral to his success in Los Angeles?
Face to face, handshake to handshake, he said.
"I come from a police family. My father was an LAPD cop. My sister was an LAPD detective. My son's an LAPD SWAT officer. My daughter is a … bomb dog handler for LAPD. My other daughter is a sheriff's deputy," he said.
"I don't just love cops. I am cops. I know that once CPD understands that, that they will understand me. Their welfare — making sure they're safe, making sure they're funded, making sure they have the tools and the ability to do their jobs — I want to help them to do that."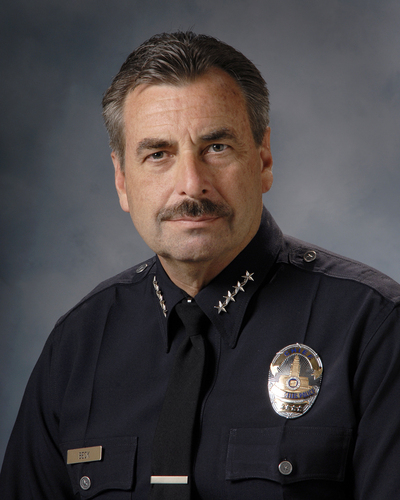 The retired top cop left LAPD a year ago, only to get back in the only game he has ever known as a temporary replacement for Johnson.
Though he will move to Chicago "in the coming weeks" to work with Johnson, according to the mayor's office, Beck won't officially take over until Johnson retires. That's when he'll start getting paid, too — at the same $260,044 annual salary.
---
---
Although Chicago has a history of turning interim department heads into permanent ones, Beck categorically ruled out becoming Johnson's full-time replacement. That's even if he's a smashing success and he somehow falls in love with Chicago's frigid winters.
"That is a question for Mrs. Beck, and the answer was, 'No.' It's important to the process that I be absolutely honest with Chicago and say that and stick to my word," Beck said.
"Usually, the interim's tenure [is] difficult because everybody knows they're gonna be leaving. But this is an opportunity for Chicago. And it's an opportunity for me to affect the safety of Chicago, which is the reason I took this job."