And I sought for a man among them who should build up the wall and stand in the breach before me for the land, that I should not destroy it, but I found none — Ezekiel 22:30
.
Those following me on social media know that I recently took part in a challenge to bring attention to the fact that at least twenty–two of our military veterans commit suicide on a daily basis (22KILL and similar sites). In doing so, I took the opportunity to bring awareness to the issue of police suicide as well (at least one a day – our number one killer and thus the "22 plus 1" challenge) while also presenting a genuine solution.  In addition, and with the understanding that I frequently speak/teach on the issue of police suicide in my role as a police chaplain and law enforcement instructor, my hope is to also present some solid suicide prevention resources for you to use and share with others.
One of the things I constantly harp on to both supervisors and line officers is servant-leadership: being as proactive in serving and coming alongside our own as we are in identifying and taking down violators on the street.  So what should we be looking for?   Again, I am more than willing to come share in depth with your agencies and chaplains but here are just a few things we should have on our radar (among many others):
Watch for verbal clues (talk about death; discussions about having nothing to live for, etc.).
Watch for isolating behavior (colleagues who stop interacting with friends and family).
Sudden, negative changes in work performance; not wearing body armor; officer safety issues, etc.
Signs of depression; increased alcohol and/or prescription drug abuse issues.
Infidelity and divorce (if that was not already a bad enough in our profession).
Officers who are in trouble (IA issues) at work.
The bottom line here is that we need to be as adept in detecting trouble and solving problems within our ranks as we are at doing so on "the street."  One of the myths about police suicide is that it happens without warning when in fact there are most often a plethora of clues and evidence to the contrary.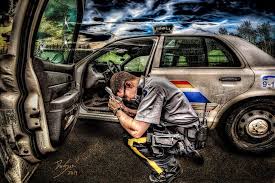 Well then what?  Are we throwing our brethren to the wolves when these issues surface or are we proactively coming alongside and supporting our own?  As we recently learned here in Colorado, the "powers-that-be" are unlikely to be of much help (the Colorado legislature just rejected a bill which would have opened the door for law enforcement officers to file Workers Comp claims for diagnosed work-induced PTSD as a workplace injury).  Accordingly, I opened this article with a verse of Scripture about "standing in the breach" that has a direct nexus to the issue of police suicide: Are you willing to "stand in the gap" to fight for and provide life-saving backup to your own?  God help us, we must be!
In closing, and with Police Week 2016 fresh in our minds, the question I posed in the title of this article demands an answer:  Where's the piper?  While we honor the lives of our brethren killed in the line of duty with flashing lights, last calls, salutes, flags and bagpipe tunes, most often those things are distinctly absent at the funerals for those who take their own lives (our number one killer).
That said (and this being "The Chaplain's Corner"), there is also a cure for what ails us and it begins with being in a genuine personal relationship (not "religion") with the "Great Physician."  Do you know Him? I beg you to turn to Him in faith.  Reach out to a Christian officer and your chaplains.  Feel free to reach out to me as well and please share or take advantage of the resources I've posted for you below:
Badge of Life – Psychological Survival for Police Officers
"Serve and Protect" 24-Hour Hotline and Resources
Hope for those contemplating suicide
Why should I not commit suicide?
More police suicide prevention resources and hotlines
More?  Email me at [email protected]
Latest posts by Michael Williams
(see all)