Recently, the Miami-Dade Police Department hosted a K-9 Appreciation Memorial Ceremony, paying homage to the dogs of duty that unhesitatingly fight crime and charge hard at bad actors looking to do evil things to innocent people. Some of these incredible animals are killed in the line of duty.
In their honor, law enforcement memorials dedicated to dutiful dogs have been erected around the nation. The Miami-Dade police force named their fallen canine memorial Loyal Partner.
From various police agencies in the South Florida region, law enforcement canine handlers and their partner dogs lined the Memorial grounds as commemorative pledges and somber prayers were offered to the animals that perished.
A Miami-Dade police spokesperson said of the fallen canines, "We will never forget their ultimate sacrifice while serving our community. Our loyal partners are forever in our hearts."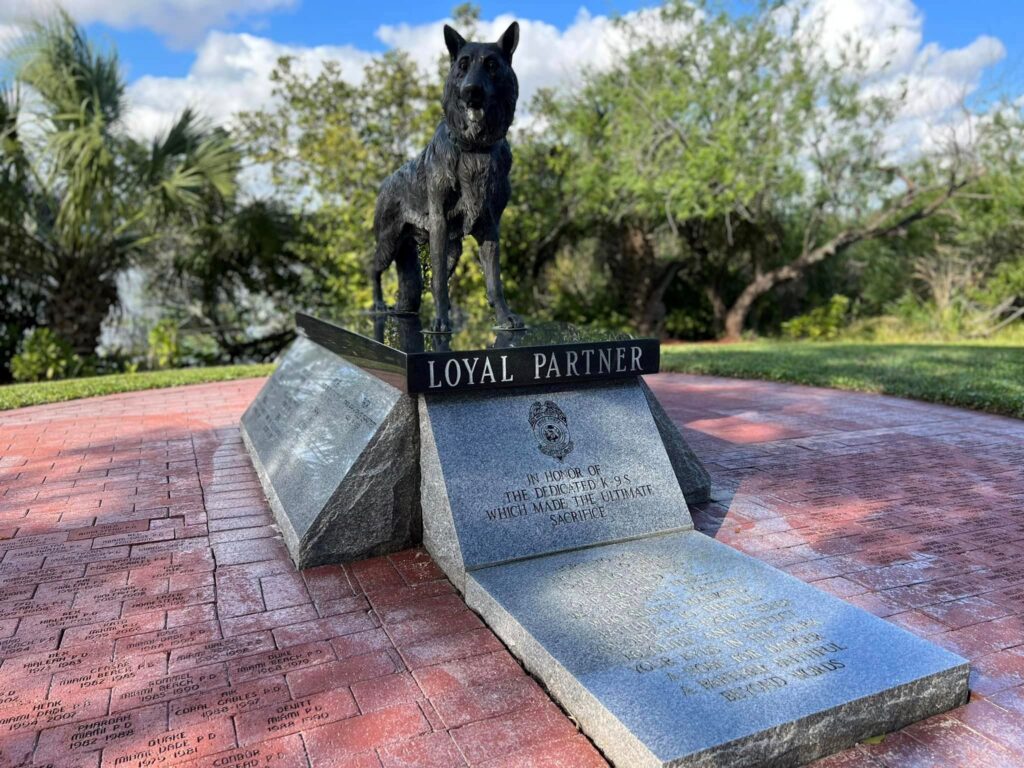 (Photo courtesy of the Miami-Dade Police Department.)
Focusing on those bricks surrounding the police canine statue in the Memorial Gardens maintained by the MDPD staff, the lineage of many police dogs defines how loyal these crime-fighting partners are…and the dedication to duty they exemplify, by laying down their lives for others.
There are blank bricks for which everyone at the Loyal Partner memorial grounds prays the etcher is not needed. A heartfelt notion, for sure.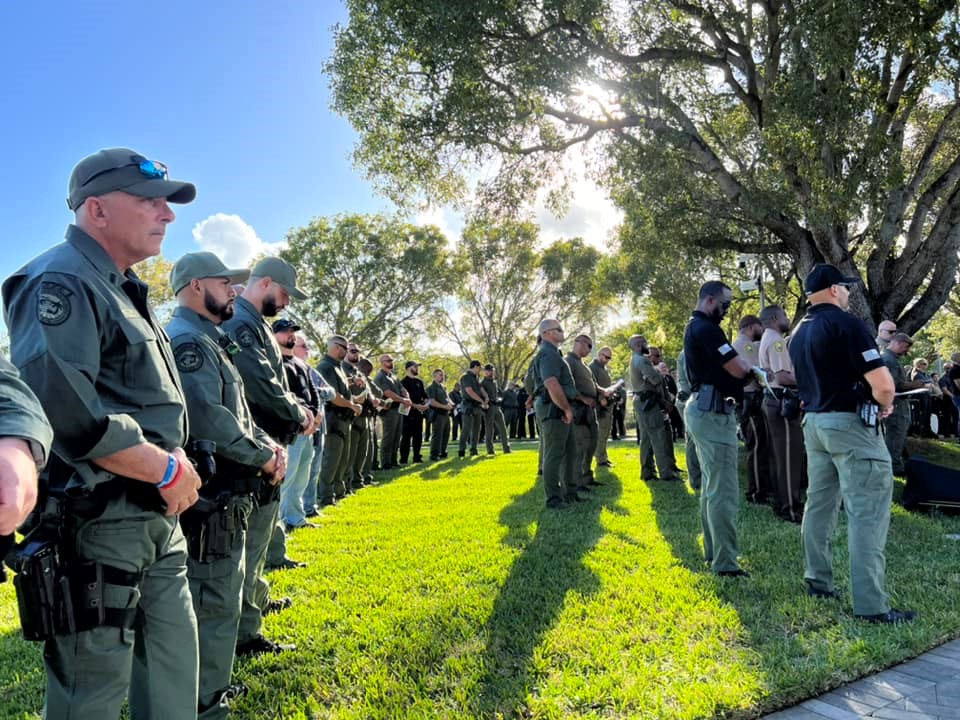 (Photo courtesy of the Miami-Dade Police Department.)
Yet everyone attending the ceremony tacitly acknowledges the stark reality of police work, namely the perils that all too often materialize on calls for service—heightened due to the anti-police rhetoric.
When on midnight-shift duty, I never experienced a fearful canine when a monstrous miscreant loomed in the dark. I marveled at their stance and dedication to duty.
Each of our police dogs' assigned handlers exuded confidence upon deboarding their canine counterpart from cruisers, prepping the leash, communicating with the dog like a boxing manager…coaching their highly trained prized fighter for the potential fray brought about by the foe. Chalking up wins is indicative of superb training and acute focus.
Especially in the dark of night, handlers unleashing their dog comes with a fusion of go-get-em and what-ifs. Despite the canine's tell-tale fury and most criminals submitting to that fact, surrendering once they hear unambiguous sounds of a dog poised to pounce, some hardcore malfeasants foolishly opt to go head-to-head with police service animals.
In that context, bad actors sometimes employ weapons against law enforcement canines. Dogs are shot. Dogs are stabbed. Some are beaten with instruments. After police dogs track a fugitive hiding in/near water, being drowned becomes part of the realm of casualty for the good guys.
I've witnessed many a police canine handler with tightened jaw upon activating their dog. Cops know what canines can do. They also know how malicious criminals can be.
Nevertheless, cops and canines are steadfastly loyal to one another; it is always fixed upon their respective facial expressions and accompanying body language, telegraphing that the duo is a force to be reckoned with as a co-reliant crime-fighting unit.
(Photo courtesy of the Miami-Dade Police Department.)
Going Home
Speaking of facial expressions and body language, when a police dog succumbs to line-of-duty death or sustains major injury or submits to nature's longevity toll (old age ailments), handlers feel such conclusions—deeply.
Upon the death of a police dog, the police handler and his/her agency grieve the loss and determine the final resting place. In some cases, a handler's home becomes the final resting place, in a familial setting.
Our brothers and sisters with the New York State Police (NYSP) recently lost one of their canine warriors, albeit not in the line of duty. On February 2, 2023, NYSP K9 Amber died unexpectedly. The five-year-old canine served for three years.
An NYSP bulletin offered the following information:
"K9 Amber was named after Trooper Robert W. Ambrose, who was killed on Dec. 19, 2002, when his troop car was struck from behind by a drunk driver on the Thruway in Yonkers.
"The police dog was trained in narcotics and cadaver detection, tracking, and handler protection."
Per a News 10 Albany report, K9 Amber "was recognized numerous times by local news agencies, highlighting her success and dedication throughout her law enforcement career."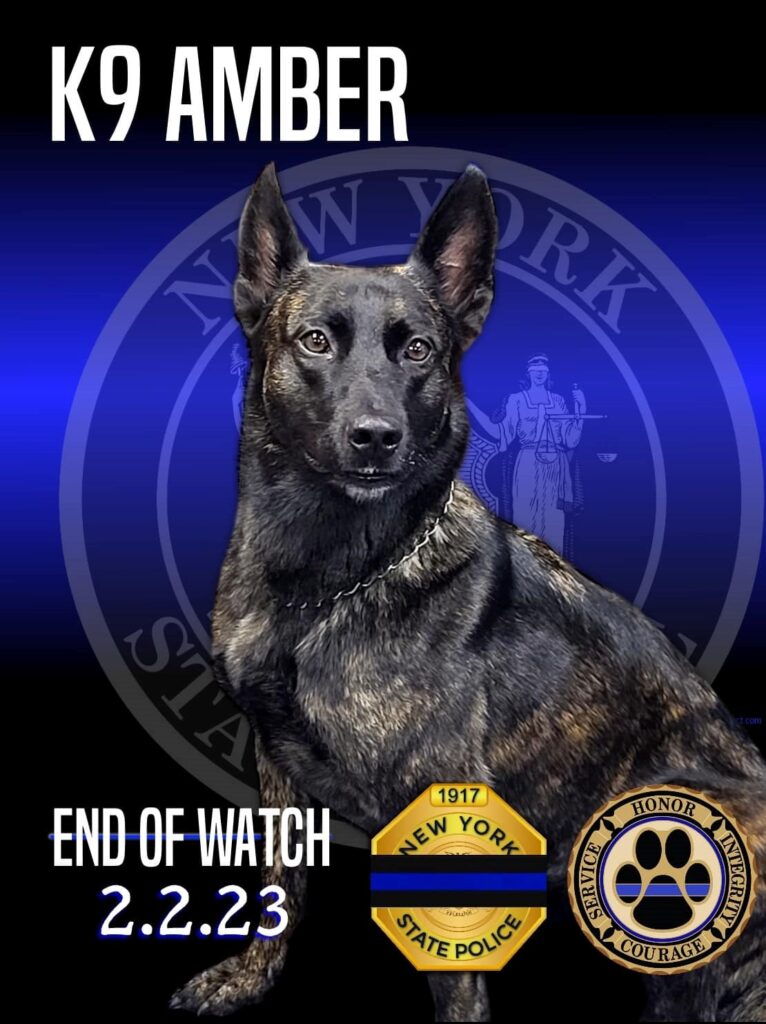 (Photo courtesy of the New York State Police.)
Although K9 Amber's legacy will be permanently etched in the NYSP's memorial site paying homage to their service animals, the agency/handler opted to have her remains cremated, the urn containing her ashes to be mantled at the home of her handler, Trooper Mark Castiglione, Jr., along with the family that gave her love after daily duty.
At the veterinary hospital where K9 Amber was typically treated was a contingent of cops and their canines, paying homage, saluting Trooper Castiglione as he took a final walk with K9 Amber, this time by the caring hands of her handler, no leash.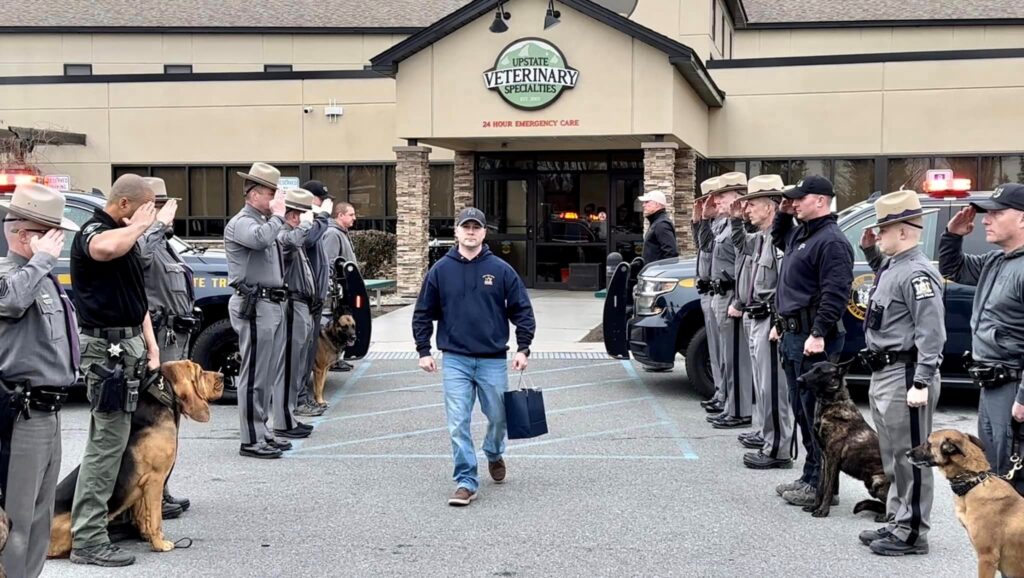 (Photo courtesy of the New York State Police.)
That image portrays the dignity given to dogs that serve public safety. It also reflects the expression of a cop whose partner is gone but not forgotten, as the credo goes.
Is there an emptiness when a police canine's bark, smile, and playful banter are no more? The following image answers that rather rhetorical question…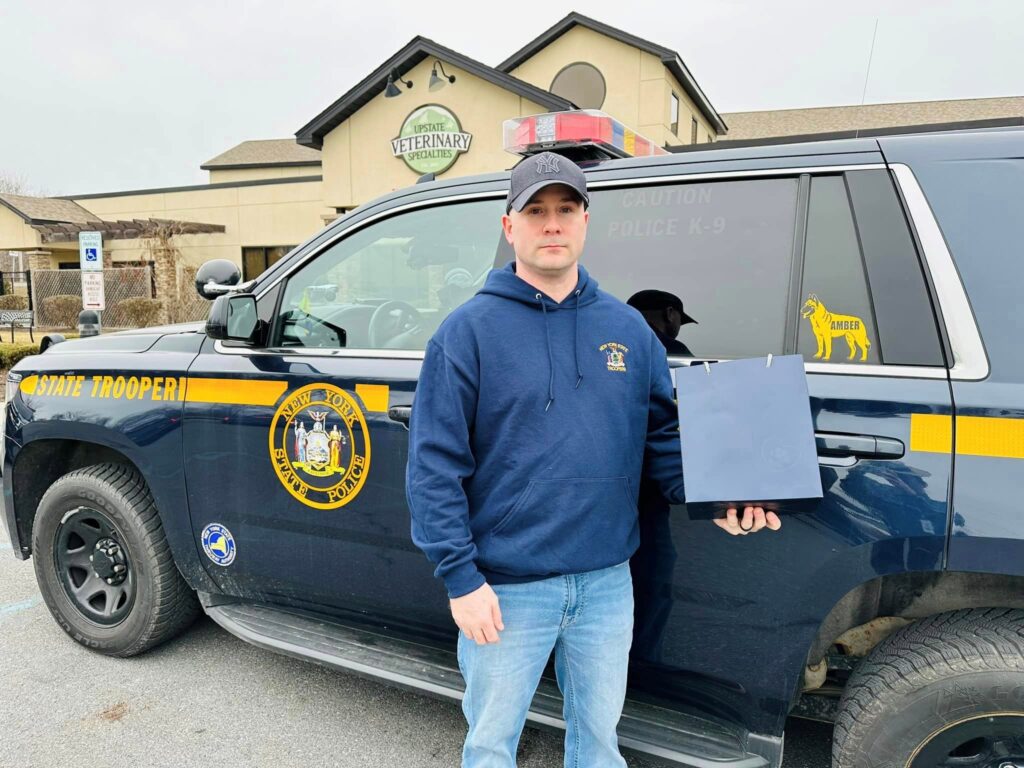 (Photo courtesy of the New York State Police.)
A New York State Police spokesperson stated, "We are always grateful for our canine partners, their hard work, and how they help us serve and protect you."
Indeed, loyal partners…
---
This article originally appeared at the National Police Association.