PITTSBURGH – Last month the City of Pittsburgh was forced to disperse more than $163,000 to a former police officer who was reinstated with back pay after being fired three years ago. The termination was connected to an alleged road rage incident.
However, the officer hasn't returned to work, and an ongoing legal battle is far from over, reported TRIBLIVE.
The sequence of events for Robert Kramer began in 2017 when he was charged with pointing a firearm at another motorist while driving off-duty. Nevertheless, an Allegheny County jury acquitted him in 2018 of a simple assault charge. As a result, an arbitration panel ordered the City of Pittsburgh to return him to duty in 2019 with retroactive pay and benefits.
Nevertheless, the city appealed the arbitration ruling to the Allegheny County Court of Common Pleas. Hence, Judge Donald R. Walko Jr. upheld the arbitrator's ruling, yet the City of Pittsburgh was not deterred. They filed a second appeal. This appeal is pending before Pennsylvania's Commonwealth Court, according to the report.
Pittsburgh paid Kramer $163,692 in retroactive pay on Jan. 31 as part of Walko's ruling but has yet to return him to duty. They argue that Kramer needs to be recertified by the state to work as a police officer, according to court documents.
Kramer claims he was injured on the job before his termination and must be cleared by a doctor to return. The nature of his injury was unspecified.
Fraternal Order of Police Fort Pitt Lodge 1 President Robert Swartzwelder said Kramer cleared about $90,000 in back pay after the city deducted for such things as taxes and unemployment compensation. Moreover, the FOP leader said the city wrongly deducted for health care benefits, which were terminated after officials fired Kramer, TRIBLIVE reported.
"They wrongly deducted more than $4,000 for medical benefits that the city had canceled when Kramer was terminated," Swartzwelder said. "Now, there's a motion to show cause before Judge Walko because the city hasn't fully complied with the arbitrator's decision."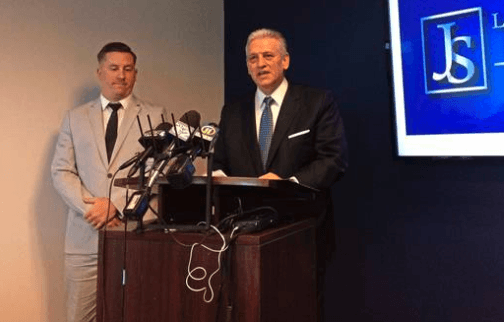 Furthermore, Swartzwelder said the city hasn't reinstated Kramer to active duty, which was stipulated by the arbitrator. The FOP, he said, has filed a motion with Walko seeking an order for reinstatement.
Tim McNulty, spokesman for Mayor Bill Peduto, declined comment.
Meanwhile, an FOP complaint is pending before the Pennsylvania Labor Relations Board alleging an unfair labor practice, and Kramer has sued the city in federal court alleging malicious prosecution, fabrication of evidence and racial discrimination.