Jussie Smollet, the former "Empire" actor was indicted Tuesday in Chicago by special prosecutor Dan Webb.
The indictment comes from the alleged racist and anti-gay attack on him that occurred in January of 2019.
Smollett, age 37,  is due in court February 24 at the Criminal Court Building at 26th and California. He is indicted on six counts.
Smollett told Chicago police that two men physically attacked him and yelled racial and homophobic slurs.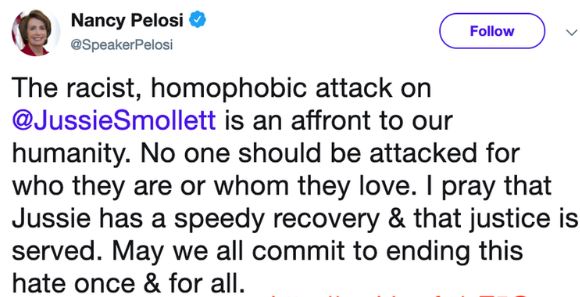 The special prosecutor was appointed by a Cook County judge to continue looking into his false allegations after the Cook County State's Attorney Office dropped all charges against the actor.
Prosecutors have determined that Smollett faked the racist, anti-gay attack on himself in the hopes that the attention would advance his acting career.
He was reportedly negotiating a new contract at the time of the attack.
Sources have told Law Officer that the Chicago Police knew very quickly that the story by Smollet was a hoax but that city officials wanted the "entire ordeal to go away."

That was until the following week when Smollet went on ABC News and partially blamed the police for not catching the criminals.
Then Mayor Rahm Emanuel reportedly made the call to continue with the investigation because Smollett was painting the city of Chicago "in a bad light."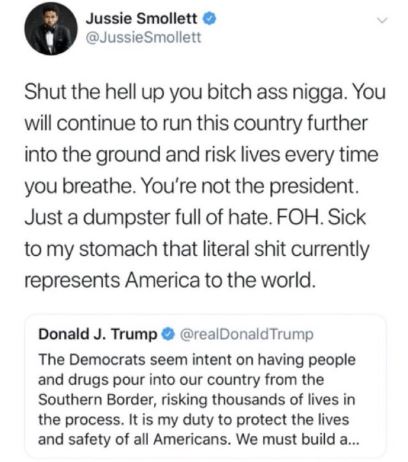 Those charges were eventually dropped by Chicago Prosecutor Kim Foxx.
What many have underestimated with this incident is that Smollett's act was done in view of a surveillance camera. Police were initially suspicious when Smollett took them to the scene and quickly pointed to an obscure camera above.
That camera was not pointed in the direction of the act but the fall out of this act being caught on camera could have created massive outrage throughout the nation.
Can you imagine the suspects wearing "MAGA" hats beating on Jussie and what would have been said or possibly done following that event?
Smollett wanted more than better pay…..He wanted the world to think that he was beaten by Trump supporters because of his race and sexual preference.
Truly disgusting…..