Heralding our nation's brave law enforcement officers throughout the year is pinnacled during National Police Week, from May 14 thru 20, 2023. Police agencies across America hold localized events commemorating the fallen at their memorial sites. Independently, citizens show their police support by illuminating blue lights at homes and businesses.
In Florida, state buildings are outfitted with blue hues. Bridges cast blue beacons above shimmery waterways below.
Compliments to Tampa Police dispatch supervisor Tammie Bishop for today's cover photo, depicting the downtown Tampa skyline and quite a blanket of blue lights emanating from various corporate complexes and businesses, photographed from a Tampa Police helicopter. (Nice to have friends in high places.)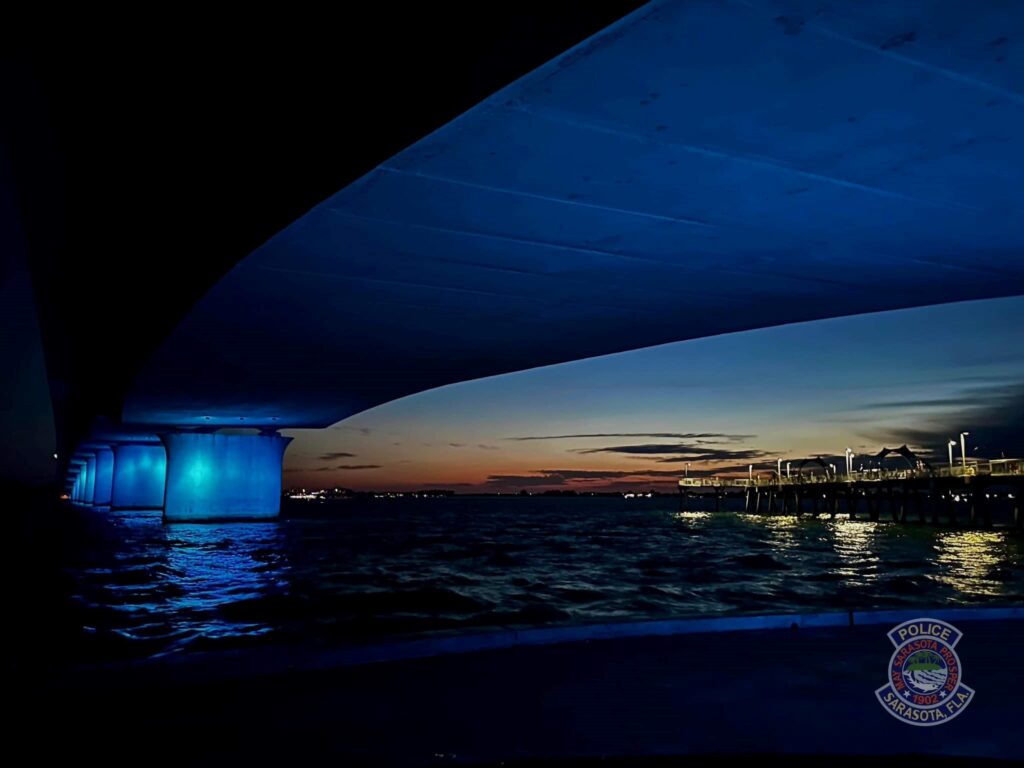 (Photo courtesy of the Sarasota Police Department's Marine Patrol Unit.)
Law enforcement agencies morph their headquarters and operations centers by installing blue lights in and around the premises.
In Tampa, Florida, Hillsborough County Sheriff Chad Chronister said, "Ahead of National Police Week, we're asking you to help #teamHCSO recognize and salute all law enforcement officers who selflessly serve.
"From May 11 through May 16, 2023, you can light up your homes and businesses with blue lights to show those who protect and serve your community that you value their work. Thank you for your support!"
Will you participate in "Paint the Town Blue" in honor of our protectors in police uniforms?
It turns out Paint the Town Blue picks up where Autism Awareness Month left off, both calendar events symbolized by blue bulbs.
Although I typically purchase my blue bulbs for these events (and others that are emphasized by blue brilliance, such as Child Abuse Prevention Month through every April) from any of the big box retailers, some local civic organizations and non-profit groups are avid providers.
In Tampa, some police-supporting folks named Betsy and James "went allll over Tampa and Orlando handing out blue light bulbs for Paint the Town Blue!"
(Photo courtesy of Koda the Fluff.)
It seems Koda is driving a blue car while hauling a stockpile of brand-new blue bulbs in the hitched wagon. Makes sense. After all, police canines are certainly an element of law enforcement successes and losses.
In the background, you can see a massive water fountain space illuminated in blue, one of many downtown Tampa locations showing support and respect for law enforcement officers.
The FBI's agents working out of their regional hub in Tampa has their FBI Tampa Citizens Academy Alumni Association (FBITCAAA.org) staff distributing blue light bulbs and marketing yard signs to citizens and businesses.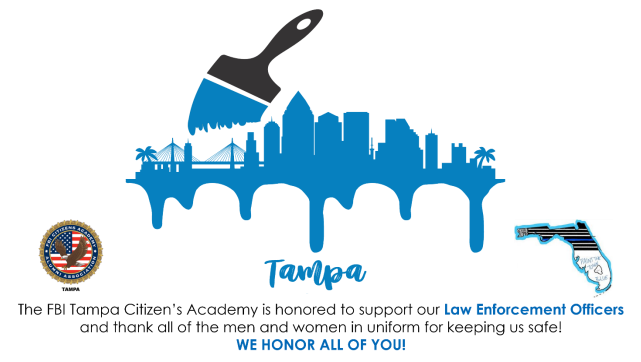 (Photo courtesy of the FBI Tampa Citizens Academy Alumni Association.)
Our embattled brothers and sisters fighting the good fight in Chicago have area businesses standing up for them. The Chicago Police Memorial Foundation
(Photo courtesy of Ralph's Cigars.)
The Chicago Police Memorial Foundation is a "not-for-profit organization dedicated to honoring the lives of our fallen Chicago Police heroes and provide support and financial assistance to the families of Chicago Police Officers who were killed or catastrophically injured in the line of duty."
As you may already know, the Chicago Police Department lost yet another police officer to violence recently…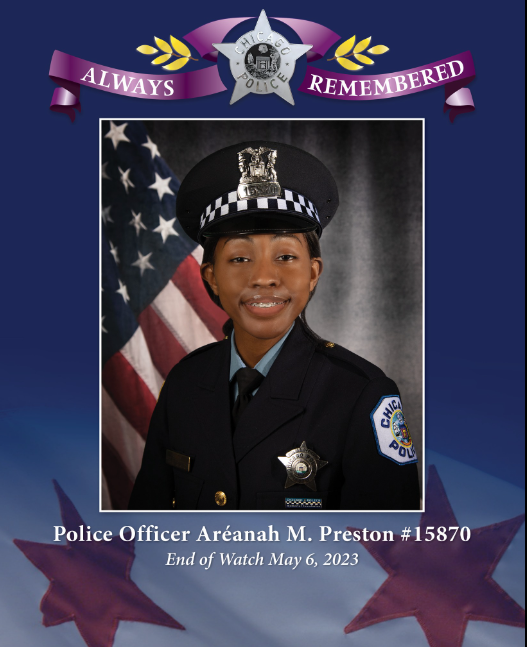 (Photo image courtesy of the Chicago Police Department.)
A Chicago news outlet's title says it all: "Off-duty Chicago police officer Areanah Preston killed right in front of her home."
Officer Preston, 24, was found by her police colleagues who responded after reports of gunfire in the area of her home. She was located "laying in her front yard," her duty weapon stolen from her person.
Per a Chicago reporter, Officer Preston "had just finished her work shift" adding that administration at Loyola University confirmed "she was on track to graduate May 13 with a Masters of Jurisprudence from the School of Law."
Painting the town blue may not bring back the lives of cops fallen by the malicious minds and hands of miscreants who unabashedly paint the town red but gesturally and solemnly holds her memory and embraces her police and blood families.
That applies to all of America's heroes who gave all.
Honoring the Fallen
Chronicling the law enforcement officers killed in the line of duty through 2023, as of this writing the Officer Down Memorial Page tallied 37 fallen cops, mostly due to gunfire. Police Canine line-of-duty-deaths are presently at six, two of which were felled by gunfire.
Sifting through statistics compiled by the folks at the National Law Enforcement Officers Memorial (NLEOM), the names of 556 police officers killed in the line of duty were added to the wall in Washington, DC. Of these, 224 LEOs were killed in 2022, joined by 332 officers who perished in prior years.
"Many of their stories of sacrifice had been lost to history until now. There are currently 23,785 names engraved on the Memorial," declared historians with the NLEOM.
That's 23,785 sobering reasons to Paint the Town Blue.
---
This article originally appeared at the National Police Association.