WASHINGTON — For the last 10 years, a team of officers has traveled to Washington, D.C. and the National Law Enforcement Memorial during National Police Week to minister (as in following the Greek word for "servant").
The 2020 Police Week activities were cancelled in DC due to the pandemic. And they were cancelled again this year when the DC mayor and the powers that be in Congress refused to grant police organizations permits—including a permit to gather on the west lawn of the U.S. Capitol for the annual memorial service.
However, instead of wondering whether the current restrictions were more about politics or the pandemic, a small dedicated group decided to hold services of their own. MC Williams, retired detective, police chaplain at The Centurion Law Enforcement Ministry (and Law Officer contributor), traveled with a small contingency to Washington DC since they decided they would not be "cancelled."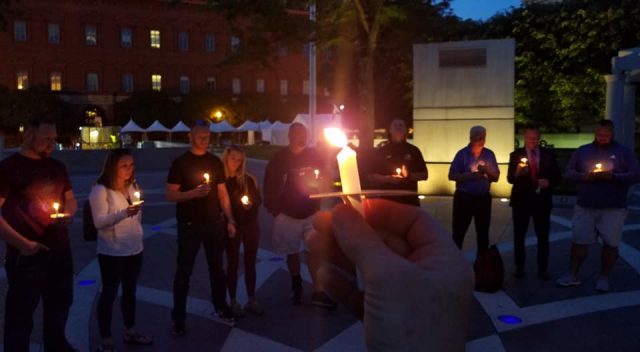 Williams told Law Officer, they "flew into DC to do what we could at our Memorial."  He then continued to provide us with a first-person account of the "Ghost town" activities in the nation's capitol this year.
This is his "after action" report.
---
First, understand that our annual trek is a joint Christian ministry outreach by The Centurion Law Enforcement Ministry and the Fellowship of Christian Peace Officers, USA.  While I am both cop and chaplain, one can best describe our outreach as "Christian peer support."  And while we give out water, tracts, Bibles and a plethora of other resources to hurting officers and family members, what we do can be dumbed down to a single word: "LOVE."  We just go to love on our own.  Our Memorial wall invoked powerful emotions:  anger, hurt, pain and yes, even some laughter (good memories).  As cops, one way we share our pain is through laughter.
Secondly, God simply pressed on my team (retired officer Jim Winston and his bride Penny) and I that we would NOT be "cancelled."  We knew that despite the cancellation of all formal activities, there would still be hurting survivors and others at our wall.  And there were; we were BUSY.
While the details of our one-on-one outreach efforts will remain private (I'll just say they were fruitful—praise God), there were also some notable public events.  The first was our "virtual" Candlelight Service.
Aside from last year and this year, normally many thousands of officers and the families of our slain gather for a solemn, candlelight service where the names of our fallen from the previous year are read.  While the virtual service took place online, two of us — and ONLY two of us — Jim and I donned our Class A uniforms and gathered at the Memorial seal to listen via Bluetooth.
Wonderfully, a couple of DC Fraternal Order of Police (DC 1) brought candles that we placed at every panel of our Memorial.  We then gathered at the seal to hear the reading of the names.  Words are not adequate to describe what occurred there (suffice it to say that the emotions were raw).
Similarly, Jim and I showed in uniform (again, we were alone in this) at our Memorial for the virtual (online) Memorial Service that should have taken place at the Capitol.
Again, we REFUSED  to be "cancelled."
Three final points that folks should be aware of:
Since 1962, there has been a Presidential "Proclamation on Peace Officer's Memorial Day and Police Week" issued by the President from the White House. While the language is generally boiler plate, this year the President added a third paragraph in which he essentially and falsely called us all racists. He used OUR Proclamation to vilify us and make a political statement (a false one). It is APPALLING and speaks of the hate this Administration has for us.
Generally, the President will lay a wreath at our Memorial (we had OUTSTANDING support from the last administration). In a generally disgusting display, the President sent a cabinet member in his place (despite this individual's distaste for us, he actually gave me "fist bump").
As Law Officer has reported, there was an issue (another presidential one) with the lowering of our flags. I'm here to report that Jim and I convinced the new Memorial Executive Director to lower the Memorial flags to half-mast and keep them there for the remainder of Police Week.
Finally, know that in refusing to allow our Police Week to be cancelled, we did what we could to "represent" by honoring our fallen and serving hurting family members – both blue and natural.
---
As you can tell by Williams' account, Police Week 2021 was vastly different from years past. Nevertheless, we as a law enforcement institution promise our departed, especially those who died in the line of duty, to "never forget."
Thankfully, law enforcement has people like Williams, along with Winston and his wife who represented police officers at the Memorial this year.