March 27, 2023
TULSA, Okla. – Joseph Watson was charged in a 2021 shooting at the Tulsa International Airport. The violent ordeal drew a large police response, stalled flight plans and panicked travelers, Law Officer reported at the time. 
After Watson's gunfire struck a vehicle that held his family and one occupied airport shuttle in November 2021, he also fired at airport police, striking an officer who was protected by body armor. Watson was wounded as officers returned fire and subsequently taken into custody. He told police at the time that he had planned to kill his wife and "make" police kill him in the process. 
Watson, 51, pleaded guilty to four counts of shooting with intent to kill, one count of assault and battery with a deadly weapon, one count of threatening an act of violence and two counts of possession of a firearm after a previous felony conviction, Tulsa World reported last Tuesday.
District Judge Michelle Keely sentenced the defendant to life in prison. However, according to state statute, "life" equates to 45 years. Therefore, he will spend the first 30 years in the custody of the Oklahoma Department of Corrections and the final 15 years are suspended, according to the news outlet.
Moreover, Keely assessed three 40-year sentences for Watson's remaining counts of shooting with the intent to kill, with the first 30 years served in custody and the final 10 are suspended, as well as one 20-year sentence for his assault count and three, 10-year sentences for his remaining threatening and gun possession counts.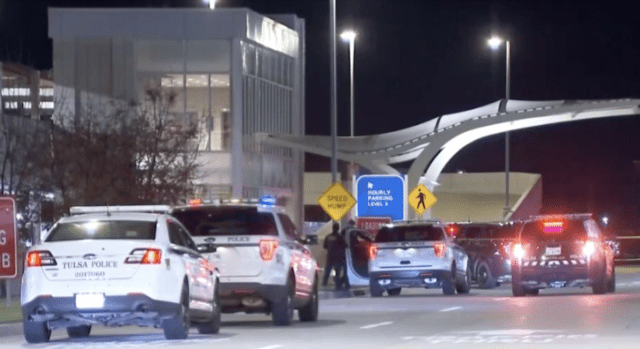 Keely ordered the sentences for all crimes to run concurrently and gave Watson credit for time served since his arrest, Tulsa World reported.
---
Law Officer article, Dec. 1, 2021
TULSA, Okla. – Bullets were flying at the Tulsa International Airport about midnight Tuesday after a man tried to kill his wife upon returning to the area. The suspect was wounded and an officer sustained a hit to his body armor during the gun battle, according to a report.
The Tulsa Police Department identified the suspect as Joseph Watson Jr, 49. He was taken to hospital following the shooting.
Tulsa police said the confrontation began after a woman and her brother were about to exit the airport after returning to the area on their flight from Houston, News 9 reported.
The woman and her husband had engaged in an argument and he threatened to kill her when she arrived back in Tulsa, according to police.
As a result, the woman feared for her safety and notified airport police of her circumstances. Hence, they thought it was prudent to escort the woman and her brother to their car.
As the group was walking toward the parking garage, Watson arrived and opened fire. Airport police chased the man to the garage and a gun fight ensued.
According to law enforcement authorities, the suspect was shot in the foot and eventually taken into custody. One of the officers took a round to the vest, but is expected to recover from his injuries.
Watson was transported to the hospital for his injury. Tulsa police said he will be booked on the appropriate charges once he is medically cleared from the hospital.
Watson was in possession of three weapons as he opened fire on his wife, her brother, and law enforcement personnel. Several vehicles were damaged by gunfire during the incident, News 9 reported.
"For me when it goes out as an active shooter it's probably one of our higher priority calls," said Tulsa Police Capt. Jarrod Hart. "Actually being at the airport with as many innocent civilians walking around bodies that are moving around any time there is gunfire it's obviously going to be a major incident because of the potential of lives out here."