LEBANON, Ohio — An Ohio gunman who engaged police in a 2020 shootout, wounding an officer in addition to being shot himself, was sentenced last week to 56 years in prison, according to reports.
The gun battle took place Aug. 31, 2020, after officers from multiple law enforcement agencies tried to detain Christopher Hubbard, 38, who had an active warrant for his arrest and was a being looked at in a homicide investigation. The suspect failed to yield as officers tried to stop him and a vehicle chase took place, WLWT reported. 
The pursuit began in Butler County before proceeding into Warren County. Hubbard's vehicle was eventually disabled after police deployed stop sticks.
Members of the Butler County Sheriff's Office, Ohio State Highway Patrol and Middletown Police Department surrounded the vehicle, but Hubbard ignored commands to surrender, police said.
As police deployed K9 Koda to apprehend the suspect, he opened fire, discharging five rounds before his weapon jammed.

Although K9 Koda was not struck by gunfire, Officer Dennis Jordan with the Middletown Police Department was not as fortunate. He was hit twice, officials said. One bullet entered his shoulder and the second round struck his duty holster causing an injury to his hand.
Hubbard was also wounded as law enforcement personnel returned fire.
Judge Tepe sentenced Hubbard to 56 to 61 1/2 years in prison. When Tepe asked Hubbard if he had anything to say, he said his Attny told him not to speak, but said "Go Bengals. In God I trust." Given the seriousness of this case, no one in court was amused. @wlwt pic.twitter.com/f3h0PmwcSh

— Karin Johnson WLWT (@karinjohnson) January 23, 2023
Jordan was treated for his injuries and returned to work after four months, officials said.
Hubbard survived the shooting and was being held at the Warren County Detention Center during his trial, which began earlier this month.
Hubbard was found guilty of three counts of felonious assault with firearm specifications, failure to comply with the order or signal of a police officer with a firearm specification, having weapons while under disability, improper handling of a firearm in a motor vehicle, and assaulting a law enforcement service dog, according to WLWT. He was acquitted of attempted murder.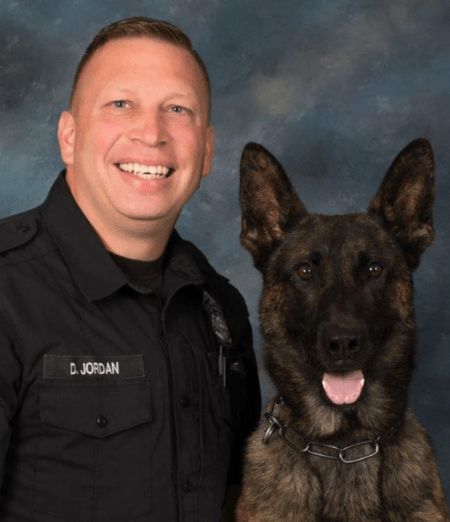 Warren County Judge Tim Tepe told Hubbard that he hasn't taken any responsibility for shooting at officers, The Journal-News reported.
"I believe you are dangerous. I believe you are manipulative," Judge Tepe told the defendant during sentencing on Jan. 23. In addition to his sentence of 56 years in prison, he could serve an additional 5.5 years if he misbehaves during his incarceration.
According to Karin Johnson with WLWT, Hubbard declined to speak during sentencing on the advice of his attorney, but said, "Go Bengals. In God I trust." Given the seriousness of the proceedings, "no one in court was amused," she wrote on Twitter.
During trial, Hubbard's defense attorney argued that he suffered from post-traumatic stress and it was triggered when police tried to detain him. According to Fox News, the attorney vowed to appeal the sentence.