Tulsa, Oklahoma – You won't hear about these crimes in the mainstream media but in recent weeks, law enforcement has said that multiple murders in different states are being considered hate crimes for the suspects specifically targeting white people.
On April 18, 2023, Carlton Gilford allegedly allegedly murdered two strangers that he had no connection with.
The New York Post reported that authorities in Tulsa are investigating whether Gilford (right) shot and killed two white men because of their race.
Sources tell Law Officer that Gifford went inside the Rudisill Library around 9:40 a.m., and walked by multiple individuals that were African American, eventually stopping behind Lundin Hathcock, 35, that was sitting in a chair. Gifford shot Hathcock in the back of the head and then got in his car and drove off. Hathcock was killed in the shooting.
Gifford then went to a nearby QuikTrip convenience store and walked around the store in a "stalking manner." At that time, the occupants were all African American. Gifford went outside and observed a white man walking into the store. He followed James McDaniel, 55, into there store and shot him in the back of the head.
When officers arrived, he was standing outside the store and admitted to shooting the two men, the Tulsa Police Department said on its Facebook page.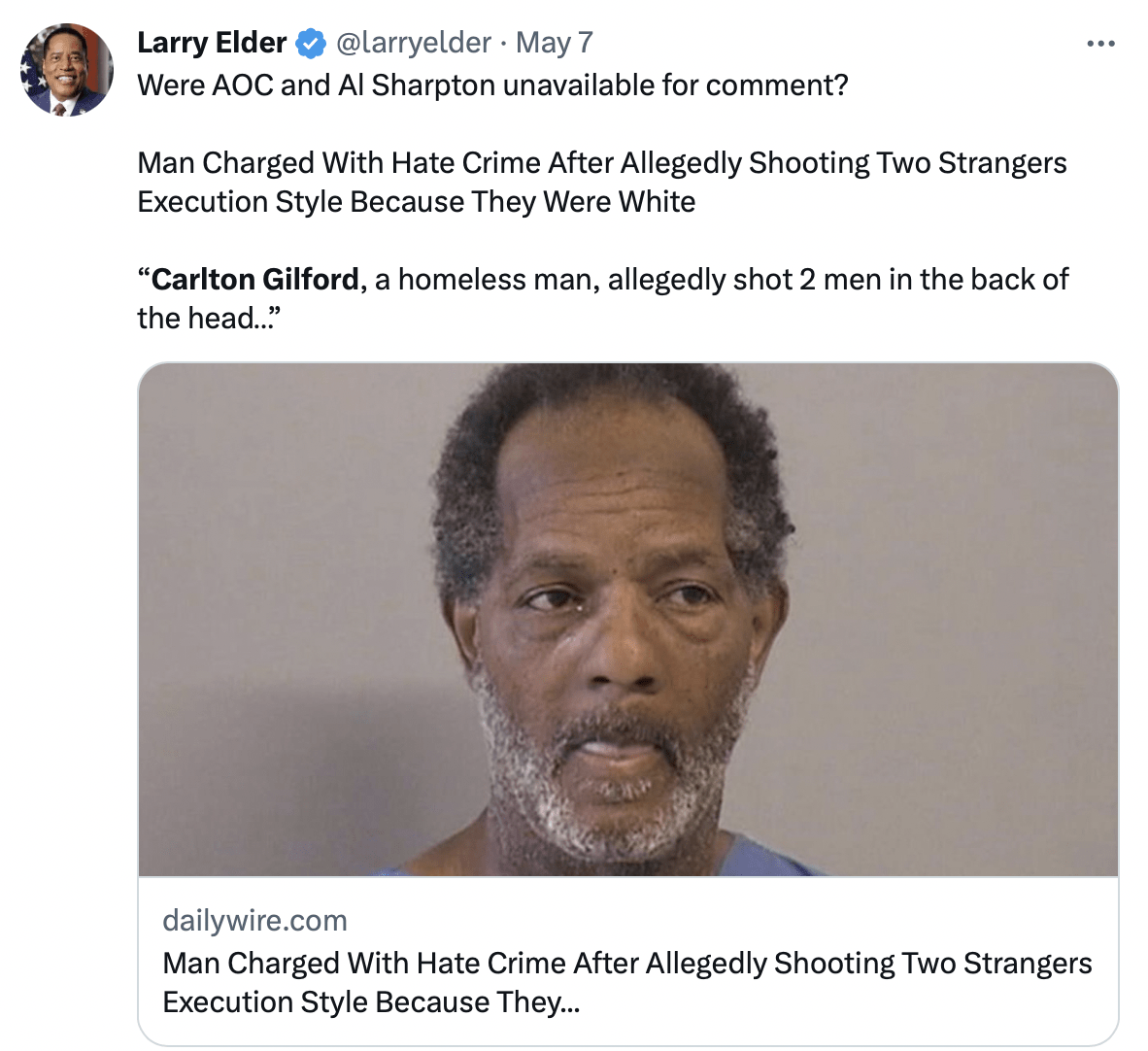 Gilford was arrested and charged with two counts of first-degree murder, two counts of shooting with intent to kill, and one count of malicious intimidation or harassment.
The latter charge is Oklahoma's version of a hate crime.
"The information suggests that race played a role in it," Tulsa County District Attorney Steve Kunzweiler told local CBS affiliate KOTV. "I feel like that is something we can prove, and it is something that a judge or jury obviously needs to listen to. So, we will present that information along with everything else."
On April 11, 2023, the Kenner (LA) Police Department announced the arrest of 23-year-old Tahj Matthews and 25-year-old Maurice Holmes. Both were charged with the murder of 66-year-old Lawrence Herr the day before in the city of Kenner, Louisiana.
Herr was working as a handyman when he was fatally shot in the back while installing a mailbox. Sources tell Law Officer that the suspects have no connection to the victim.
Both men may face hate crime charges after one admitted that they were seeking to kill a white person, according to police.
Kenner Police Chief Keith Conley confirmed that both men could be facing hate crime charges.