I bristle after someone commits a heinous act and partisans blame their political enemies for the violence. Like blaming the NRA and Second Amendment supporters after a mass shooting. Most conservatives, me included, instead, place the blame squarely on the perpetrator.
But it's no longer that simple. While this happens on both sides of the political aisle, one side seems to do this more often and more publicly than the other. Still, it's getting harder for traditional Americans not to place part of the blame on political coconspirators in the crimes.
Part of the reason is we're not only talking about politicians or media figures who only enflame people with their rhetoric like comparing political opponents to Hitler or Stalin. Even if the rhetoric is provocative, criminals are still responsible for their actions.
But, what about the radical leftist political officials, funded by people like George Soros, who are creating a legal system that punishes their enemies while letting their supporters off?
This is now well-known and well-documented across the country with prosecutors like (a partial list) Bragg (NYC), Krasner (Philly), Foxx (Chi); Boudin (SF), Rollins (Bos), and Gardner (St.L), the last three have been, thankfully, tossed from office. And at least one, Racheal Rollins, proving our point, will reportedly not be prosecuted for the alleged crimes she committed that got her tossed from office. Still, there are too many of them still in office.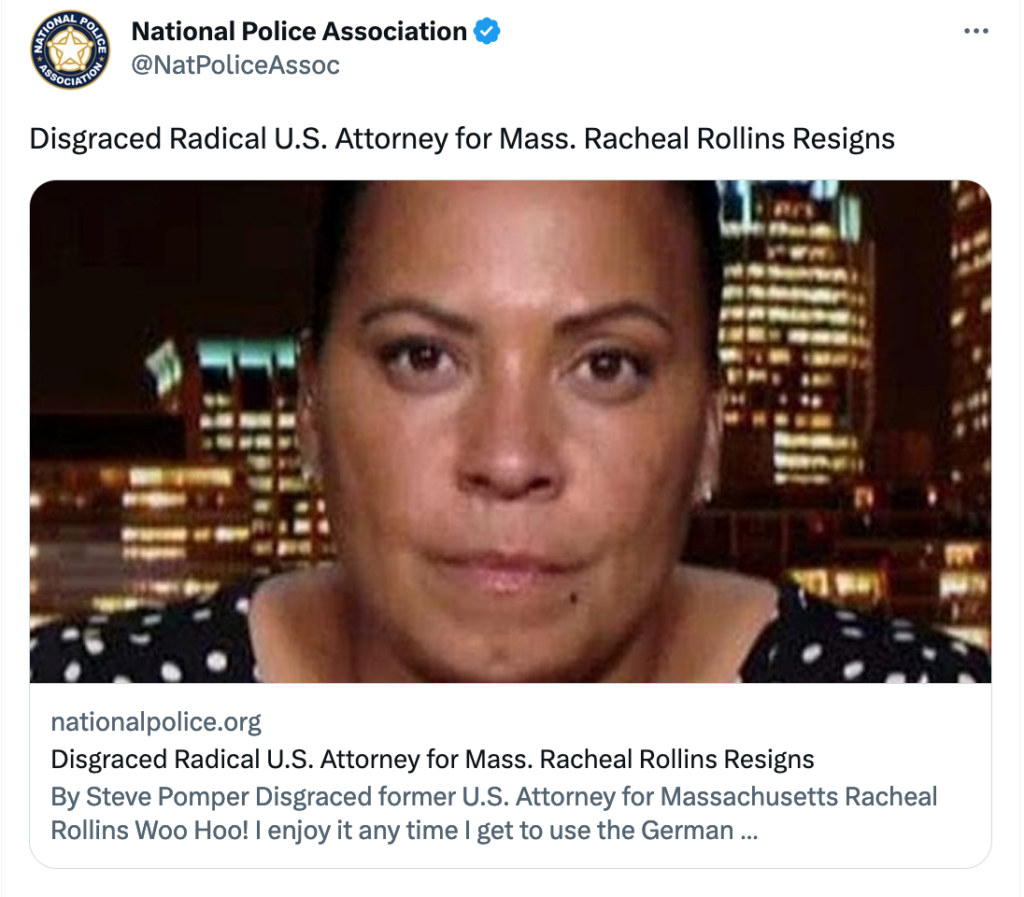 You can't only hold criminals accountable for their actions when a corrupt system allows them to go free—if they're arrested at all. Regardless of one's politics, the fact exists that most violent BLM/Antifa rioters escaped arrest or prosecution. By contrast, most Jan. 6th demonstrators/"paraders," even those who never went inside the Capitol, have been arrested, prosecuted, and imprisoned.
So, if you're inclined toward criminal acts to achieve political goals (terrorism), which side of the aisle would you prefer? Which side would you feel safest when committing a politically motivated crime?
An example I'm thinking of comes from Baltimore, Maryland, where police are looking for a suspect who viciously beat two elderly male pro-life activists who were peacefully demonstrating outside an abortion clinic.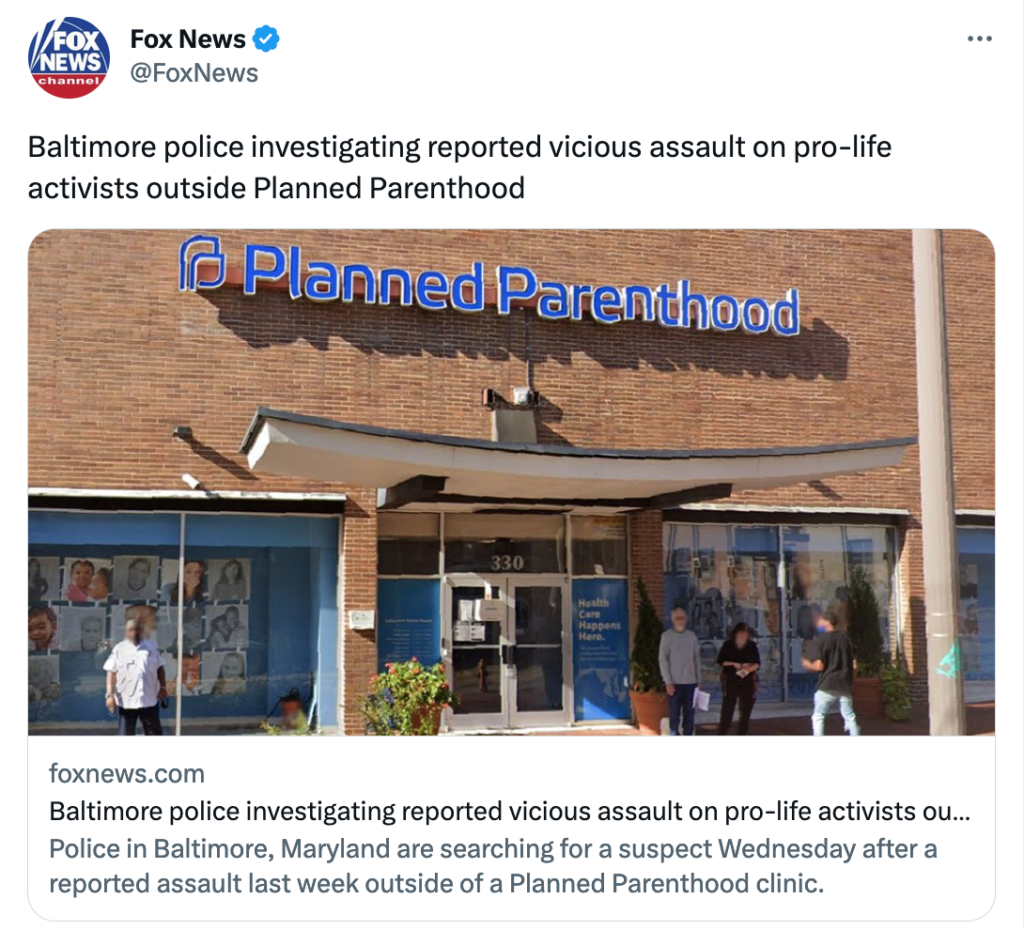 Which brings me to a story in The Daily Signal. "Two elderly pro-life advocates were viciously assaulted outside of a Baltimore Planned Parenthood clinic on Friday, several witnesses confirmed to Baltimore police.
"Jay Walton, the head of Baltimore County Right to Life, said Tuesday morning that 73-year-old Mark Crosby and 80-year-old Dick Schaefer were 'viciously attacked' while they were praying in front of a Planned Parenthood clinic in Baltimore."
The Baltimore County Right to Life leader, Jay Walton, said this was not a robbery. Reportedly, the assailant attacked the men as they were praying near a Baltimore Planned Parenthood clinic. Walton feels the incident should be treated as a "hate crime." That's not likely.
He also encouraged Maryland Gov. Wes Moore (D) and Baltimore Mayor Brandon Scott (D) to denounce the attack. In line with my general argument on this issue, Walton added, "Their silence on this attack will continue to put pro-lifers in danger throughout the state of Maryland."
According to a witness, the unidentified white male assailant handed his drink to a Planned Parenthood escort before attacking Shaefer, who may have had his back to the assailant at the time, knocking "him into a large flowerpot. When Crosby went to assist Shaefer the attacker knocked him to the ground, and "then kicked Crosby in the head," according to LifeSiteNews.
Witnesses reported just before the attack, after speaking with staff at Planned Parenthood, the assailant was talking to the men in a "visibly aggressive conversation" about abortion.
According to Baltimore police, "'The suspect is then observed about to turn away, but rushes at Mr. Schaefer and tackles him over a large flowerpot,' the police narrative continues. 'The video then shows Mr. Crosby running over to assist, and the suspect turns and shoves him down with both hands. The video continues and shows the suspect striking Mr. Crosby in the face with a closed fist as Mr. Crosby is on his back on the ground. The suspect is then observed standing up and, with extreme force, kicks Mr. Crosby directly in the face.'"
This was not a frivolous assault. This could be assault with a deadly weapon, a felony. It could even be charged as attempted murder, since the victim was kicked in the head, which can be lethal. Bloody photos of Crosby's face following the attack show significant swelling and a disfigured right side of his face. He was transported to the University of Maryland's Shock Trauma Center for treatment.
The injuries this man suffered just for exercising his First Amendment rights were horrific. LifeSiteNews also reported Crosby was "bleeding from some unidentified area behind his eye, and the bone eye orbit is completely shattered and will have to be replaced with metal."
But that's what you do to "fascists," "Nazis," who don't agree with you politically, right? After all, that's what your leaders have been falsely selling you about your political opponents. At least, when people call radical leftists Marxists, communists, or socialists that's what they call themselves.
It doesn't matter what cause Crosby and Shaefer were demonstrating for or against. And it doesn't matter if you're pro-life or pro-abortion—or it shouldn't. The First Amendment's freedom of speech and religion intersect here. And sadly, as Orwell might say, violent Marxist protesters in America today are "more free" than peaceful conservative and Christian pro-life protesters. That's just a fact.
I don't know if the assailant felt emboldened by the current federal and blue states' multi-tiered criminal justice system. Or he was reassured by a system that doesn't pursue as diligently actual terrorists who've targeted pro-life facilities as they target peaceful pro-life activists. Because of the FBI's lack of investigation into radical leftist domestic terrorism against pro-life facilities, according to The Federalist, some groups have even launched their own private investigations.
Yet, the once-venerated agency continues to investigate, arrest, and prosecute pro-life activists, while ignoring leftist activists, to the frustration of rank-and-file FBI agents, including some who are employing whistleblower protections for upholding their oaths of office by using federal laws to call their leadership out on what appears to be a multi-front assault on "equal" justice.
---
This article originally appeared at the National Police Association and is reprinted with permission.