GEORGETOWN, Ind. – Law enforcement authorities in Indiana are searching Wednesday for a missing 14-year-old female whom police believe is in "extreme danger."
The Floyd County Sheriff's Office along with the Indiana State Police and other municipal agencies are searching for Emily Barger. She was last seen Monday morning around 1 a.m. in Georgetown, Indiana, which is just across the state's border from Louisville, Kentucky, FOX 59 Indianapolis reported.
"The Floyd County Sheriff's Department is investigating the disappearance of Emily Barger, a 14-year-old white female, 5 feet tall, 85 pounds, blond hair with blue eyes, and unknown clothing," the law enforcement agency said in a statewide alert. "She is believed to be in extreme danger."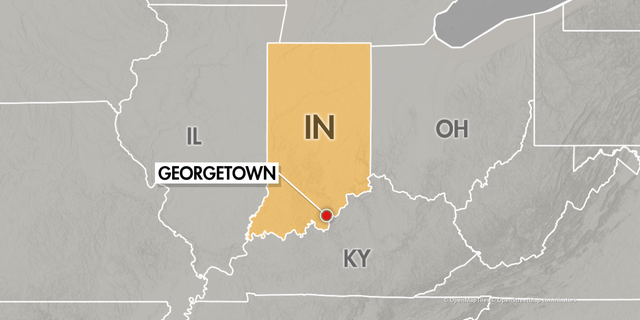 Barger was reported missing by her family, according to Floyd County Chief Deputy Jeff Firkins, Fox News Digital reported. 
A message was posted to a Facebook profile Wednesday morning that reportedly belongs to Emily's father Shawn, saying, "if you can see this in any way please come home you are in no trouble and I love and miss you very much."
"You have tons of family and friends out looking for you wanting to get you home please go to a gas station anywhere and tell them you need to get home call the police or me or anyone just please get home I love you," he added.
Further details regarding the "extreme danger" of Barger's disappearance were not immediately disclosed to the public. 
Anyone with information on the missing teen is asked to contact the Floyd County Sheriff's Department at 812-948-5400 or 911.
---
UPDATE: The Floyd County Sheriff's Department said 18-year-old Terry Ross, Jr. is a person of interest who may have knowledge of Barger's whereabouts. Ross was possibly last seen with the teen in the southern Indiana area, according to the sheriff's department.
People are asked to keep an eye out for Barger and Ross.
---
UPDATE: Emily Barger has been found safe, officials said Wednesday night.
"I am glad she is back home and the Attica Police Department needs to get a special thanks, they did a great job getting her," Barger's father, Shawn, told Fox News Digital on Thursday morning.
Police in Attica found Ross walking on a street and were able to take him into custody without incident.
"Officers gained information that the juvenile female was staying in a shed behind a residence in Attica," the Attica Police Department said. "Officers responded to that area and located the juvenile. Officers transported the juvenile female to the Attica Police Department where she was reunited with her father."
Ross has been charged with contributing to the delinquency of a minor under the age of 16.