ANN ARBOR, Mich. – A Michigan teen who vanished Friday was found dead near her high school Monday afternoon, authorities confirmed. Now investigators are trying to piece together the sequence of events to determine what occurred.
Adriana Davidson, 15, of Ann Arbor, was discovered by a K9 unit with the Washtenaw County Sheriff's Office just prior 1 p.m. near the athletic fields outside the high school she attended, the office announced, according to the New York Post. 
The girl who was known as "Addy" disappeared after last being seen by friends at Ann Arbor Pioneer High School about 11 a.m. Friday. When she failed to return home from school that day, her family reported her missing.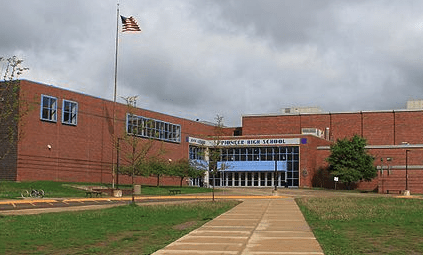 Investigators learned that Davidson arrived at school on a bus Friday morning. However, she left soon after, according to surveillance footage from the bus. About noon, she returned to campus, but never entered the building, additional footage revealed, according to investigators.
Some of Davidson's friends told law enforcement authorities that she wasn't feeling well.
Adriana Davidson was reported missing on Friday. (

Washtenaw County Sheriff's Office)
Davidson's brother Anthony Lopez said one of the teen's closest friends told him she sent her an alarming text shortly before 12:30 p.m.
"The text messages between her and her friend are time-stamped at 12:26 p.m. where she had texted my sister saying, 'You straight?' and then Addy responded saying, 'No,'" Lopez told WXYZ in Detroit.
According to Lopez, the friend replied,  "Wym," an abbreviation for "What do you mean." Davidson never responded.
"Addy" told her friends she wasn't feeling well before she disappeared. (
Some time Friday afternoon another student found Davidson's cellphone on the tennis courts at the school and gave it to a friend, who turned it over to the sheriff's office. The discovery of "Addy's" phone was a grave concern to investigators.
At the outset, WCSO referred to the teen's disappearance as "suspicious."
However, once they located her body they no longer believe foul play was involved, but did not elaborate, the Post reported.
"At this early stage there are no indications of foul play," the sheriff's office said in a statement. "Our sincere condolences go out to the friends and family of Adriana."