COLLEGE PARK, Md. – A Maryland mayor and one-time "buddy" of Transportation Secretary Pete Buttigieg has been arrested and slapped with 56 charges related to child pornography, according to reports.
Patrick Wojahn, 47, was the mayor of College Park, Maryland up until Thursday when he resigned, according to his letter of resignation posted on the city's website. He is also proudly gay and once boasted of his mentor/mentee relationship with Buttigieg, who is also gay and is the former mayor of South Bend, Indiana, the Western Journal reported. 
Wojahn said he attended a White House reception during the Obama era when his partner and Buttigieg's would meet. While speaking of his relationship with Buttigieg, he noted his status in the conference of mayors was boosted "in part due to his mentorship."
"I actually met Mayor Pete Buttigieg shortly after I was elected mayor in 2015," Wojahn said in a 2019 interview with the Washington Blade, an LGBT news outlet. "I went to the U.S. Conference of Mayors' Winter Meeting in D.C. in January and he was assigned to be my buddy."
Today, Wojahn reminisces how he was "mentored" over the years by Pete Buttigieg. They met when Wojahn went to the U.S. Conference of Mayors meeting, where Buttigieg "was assigned to be my buddy." Their husbands were introduced to each other at a White House reception under Obama. pic.twitter.com/IojSFNUBxN

— Mia Cathell (@MiaCathell) March 2, 2023
However, Wojahn's world came crashing down on Tuesday when he was arrested and charged with 40 counts of possession of child exploitative material and 16 counts of distribution of child exploitative material, Prince George's County Police Department said in a press release.
Detectives arrested and charged 47-year-old Patrick Wojahn with 56 counts of possession & distribution of child pornography. https://t.co/Dn9H1kzkh9 pic.twitter.com/TlspmoUmyl

— PGPDNEWS (@PGPDNews) March 2, 2023
The police agency provided the following overview:
On February 17, 2023, the National Center for Missing and Exploited Children notified the PGPD that a social media account operating in the county possessed and distributed suspected child pornography. The image and videos had been uploaded to the social media account in January of 2023. Through various investigative techniques, PGPD investigators discovered the social media account belonged to Wojahn.

On February 28, 2023, PGPD detectives served a search warrant at Wojahn's College Park home. Investigators recovered multiple cell phones, a storage device, a tablet and a computer. Following additional investigation, PGPD obtained criminal charges against Wojahn and investigators took him into custody early this morning.
Wojahn resigned his position as mayor effective immediately. In his letter of resignation he acknowledged the "ongoing police investigation" and said, "it is in the best interests of our community that I step aside and not serve as a distraction."
Moreover, he noted, "I am stepping away to deal with my own mental health."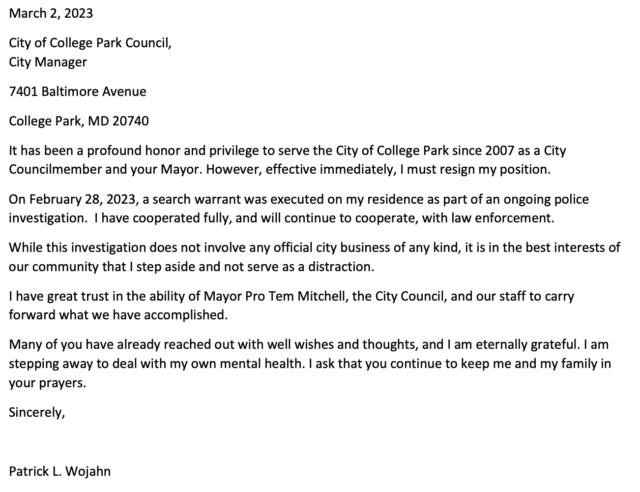 The city confirmed the resignation in a statement on Thursday, WJLA-TV reported. 
"Last night, after business hours, Mayor Patrick L. Wojahn submitted his letter of resignation as Mayor of the City of College Park, effective immediately on March 2," the statement said. "Mayor Wojahn has served in this position since 2015 and on Council since 2007. The City of College Park thanks Mayor Wojahn for his many years of dedicated service."
Prince George's County Police Chief Malik Aziz said his department wants to "send a clear message to anyone involved in this type of material that units like this are looking, they're working every day to make sure that we have a safe county and a safe state."
Drake Allen, a resident of College Park, said he wants the next mayor to be "just a regular mayor who does his job," according to WTOP-TV.
"I don't know if this is going to wake anybody up. It should, but it probably won't," Allen cautioned.
Michael Weaver, who is also a local resident, called the news "kind of embarrassing. It's terrible."