INDIANAPOLIS — Officer De'Joure Mercer of the Indianapolis Metropolitan Police Department fatally shot Dreasjon Reed in May 2020. The NFL honored Reed in December as part of their "Say Their Stories" campaign, claiming he was "one of the many individuals being honored by players and coaches this season through the NFL's helmet decal program."  Now, Mercer has filed a lawsuit against the NFL, saying he suffered injuries and damages in response to the league's law enforcement-degrading publications fighting for "social justice."
Mercer filed the suit in the federal Southern District of Indiana Court. His attorney, Guy A. Relford, wrote in the complaint that materials the league published imply that Mercer "committed occupational misconduct and even criminal acts during the May 6 (e)ncounter with Reed, similar to that which were inflicted upon George Floyd," FOX 59 reported.
Say His Name: Dreasjon Reed
Dreasjon is one of the many individuals being honored by players and coaches this season through the NFL's helmet decal program.#SayTheirStories: https://t.co/vwi75WmNxr pic.twitter.com/wWaasw6LBp

— NFL (@NFL) December 16, 2020
Since the NFL has essentially smeared Mercer by its claims that Reed was the victim of "systemic racism," Relford is beginning a journey to set the record straight.
"De'Joure Mercer is a hero. He tracked down a very dangerous criminal wanted by the police, who was a threat to the citizens of Indianapolis," Relford said in a separate statement. "He put his life on the line and was nearly killed in that effort. He was completely exonerated after an exhaustive investigation into the death of Mr. Reed. For NFL Enterprises then to suggest he was involved in police or racist misconduct is totally false, defamatory and unacceptable. What happened here has nothing to do with racism."
The "social justice" crusade has demeaned the law enforcement profession. It has unwittingly put marginalized minorities at risk by trying to dismantle the institution which is designed to protect the weak and vulnerable. Making martyrs of criminals who perish in the act of committing crimes is degrading to good and honorable people, whether they are in uniform or not.
Continuing, Relford wrote, "While we support NFL Enterprises' efforts to address social justice issues, Officer Mercer is taking a stand for the many, many good cops on duty across America. He is standing up for his friends and colleagues and sending a message that before you accuse a decorated police officer of misconduct in a national campaign, you had better get your facts straight."
Mercer fatally shot Reed following a vehicle chase that turned into a foot pursuit near West 62nd Street and Michigan Road on May 6, 2020. State investigators said Reed fired two shots at Mercer during the final moments of the pursuit, Indy Star reported.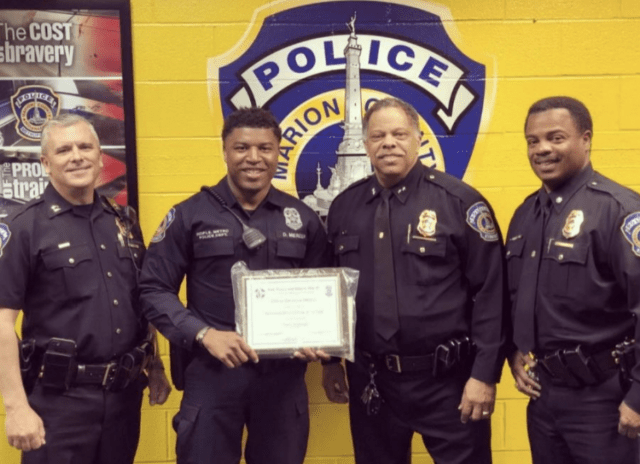 Mercer was cleared by a grand jury In November. He remains employed by IMPD, according to the news organization.
The complaint is seeking a jury trial, substantial compensatory damages for an amount to be determined at trial, the NFL be held liable for the reputational harm, and more, WRTV reported.
The NFL has not commented on the lawsuit.